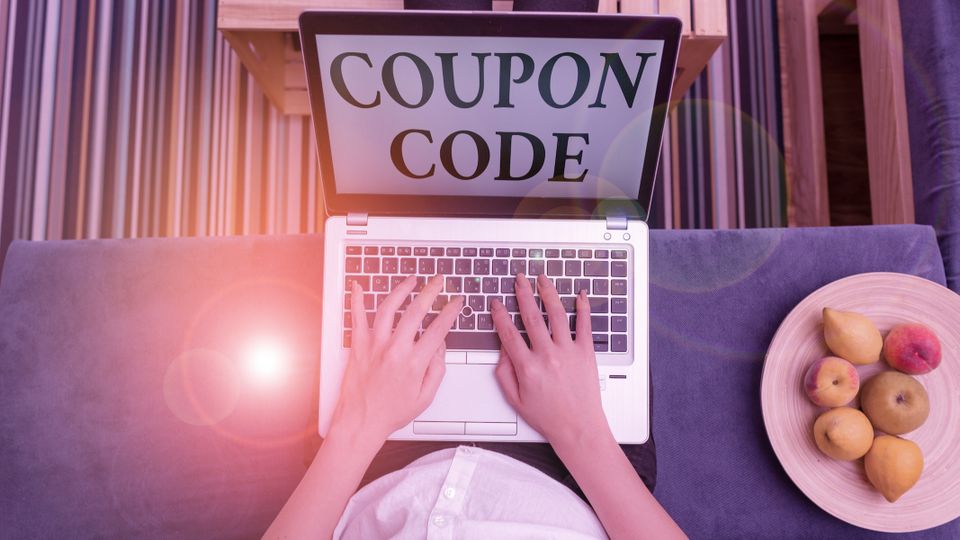 What are Coupon Codes and How Do They Work?
Published on April 25, 2022
Have you ever visited a company's website and was greeted with a pop up prompting you to use a "coupon code" to receive a discount or special offer? Or maybe you received an email blast or text message encouraging you to take advantage of an exclusive offer by typing in a short word or phrase at checkout.

Coupon codes or promo codes as they are commonly called, are presented in the form of letters, numbers, and/or symbols that can be entered during the checkout process to obtain a discount. Coupon codes are a common marketing strategy that businesses can use to win over customers and get them to take action.

Take a look at these compelling coupon code stats:
Online shoppers who use coupon codes spend 24% more than shoppers who don't use them

29% of online shoppers will add a purchase if it's heavily discounted that they didn't originally intend to purchase

74% of shoppers online prefer discounts that indicate a "percentage off" savings

81% of online shoppers enjoy receiving emails announcing sales and other discount offers

67% of brands surveyed used social media to announce flash sales, coupon offers and and product sales

91% of brands used email to share the details about upcoming sales and discount offers
Source: https://www.blippr.com/about/coupon-code-stats/

You don't need to run an online store to incorporate coupon codes into your marketing strategy. When it comes to selling listings on your local business website directory, presenting a special offer or discount in the form of a coupon code can be an effective way to attract new advertisers. You can use coupon codes to give a business that added incentive they need to sign up.

With Ideal Directories, you can easily create coupon codes and manage them all from your dashboard. You can then promote your coupon code on-site, via email or on social media. Share them with potential advertisers and prompt them to apply the code at checkout to take advantage of this special offer. This can be a great way to drum up business if you're just starting out, approaching a holiday or simply looking to boost sales.

Ready to put coupon codes into action? Here are 4 factors to consider when developing your coupon code strategy:
1. Make the offer attractive
The whole purpose of a coupon code is to incentivize the buyer with a discount. The discount needs to be substantial enough for customers to take action, without diluting the perceived value. For example, most retailers will often offer anywhere from 10-20% off your purchase. For bigger sales, they might offer as much as 40-50% off. Anything larger than that and you run the risk of diluting the perceived value of the product or service. On the other hand, if the discount is too small, the buyer won't be incentivized to take action.

Try experimenting with different discount amounts to determine their effectiveness. Start with a lower discount (say 10%) and gradually increase it over the course of several campaigns. Be sure to give each campaign a reasonable amount of time and try to keep all other variables the same. This should allow you to figure out your "sweet spot" offer that gets advertisers to take action.
 
2. Create a sense of urgency
Whenever you offer a discount or promotion, it's important to create a sense of urgency. If a customer knows there is a time limit or restriction associated with a deal, it forces them to act quickly so they don't miss out. Using trigger phases like "act fast", "for a limited time," "last chance,"  or "while supplies last" can be impactful in the success of customers completing the action.

When promoting a coupon code, establish an expiration date for when you will be taking the coupon code offline. Make it clear in your marketing that advertisers have a limited amount of time to take advantage of the offer. This will encourage advertisers to sign up fast so they don't miss the deal.
 
3. Make it relevant
Why, now, are you offering this deal? Put meaning behind your coupon code offer and it can help resonate with customers. Tie it in with a current promotion, attach it to a holiday season, event, or even a milestone for your business. Looking to incentivize your first 50 clients? Offer them 50% off. Get aggressive with a New Year promotion that offers 20% off for new clients. Show thanks with a Thanksgiving code during the month of November. Keeping a coupon code relevant to a specific event can help your customers remember the promotion and associate it with a "limited-time" deal.

Need help planning your next promotion? Take a look at your calendar for upcoming holidays and events. Prepare coupon codes that you will use throughout the year. Oftentimes the bigger the event, the bigger the discount is offered. For example, Black Friday is known as the day you can get the best discounts and deals. You might want to offer your biggest and best discount of the year for this promotion, whereas on other holidays the discount will be smaller.
4. Keep it simple
In addition to making coupon codes relevant and timely, it's important to name the coupon codes in a way that is short and easy to remember or type. If you are associating an offer with a particular holiday, make the code a phrase or term associated with the holiday. You can even include numbers that represent the discount offered.  If it is too complicated or even too long, they could have trouble typing it in which could deter them from moving forward with the action.

For example, for Black Friday, if you want to offer 50% off to new advertisers, you can create a coupon code labeled "BlackFriday50". For a generic 25% off discount that you can use year round, you can do something like "SAVE25".

Coupon codes can be an effective way to attract advertisers to purchase a listing on your directory website. Sometimes businesses just need that extra "push" to get signed up. But it's important to remember that flooding your prospects with discounts or promo codes doesn't always result in more conversions. It's important to be strategic with your marketing and promotions. Experiment with different offers and messages to see what appeals more to your customer base. Promote your coupon codes on your website, on social media and in your marketing materials to maximize visibility. Take the time to measure and evaluate the effectiveness of each coupon code you produce.

Ready to incorporate coupon codes into your marketing plan? Sign up with Ideal Directories and use the tips above to get started.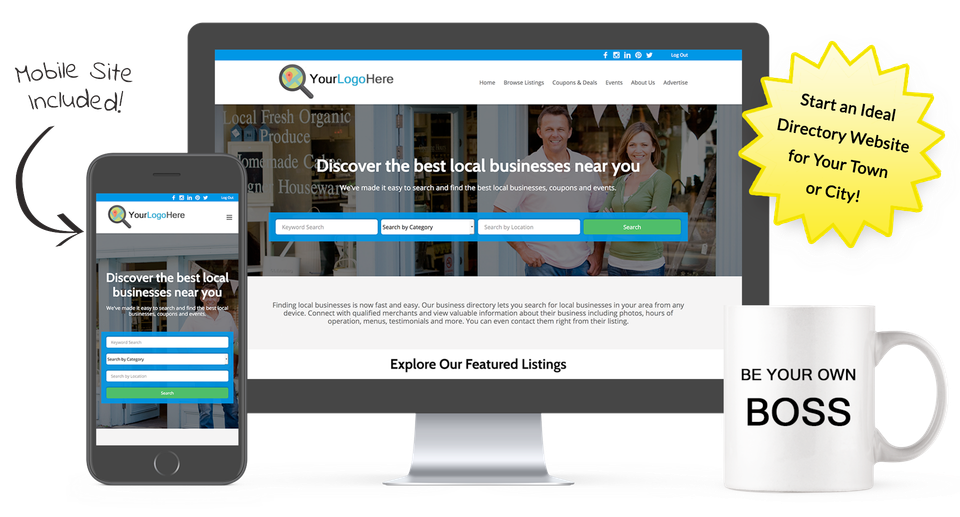 Start a Directory Website for Your Town or City with Ideal Directories!
Make money promoting local businesses, coupons & events in your area.