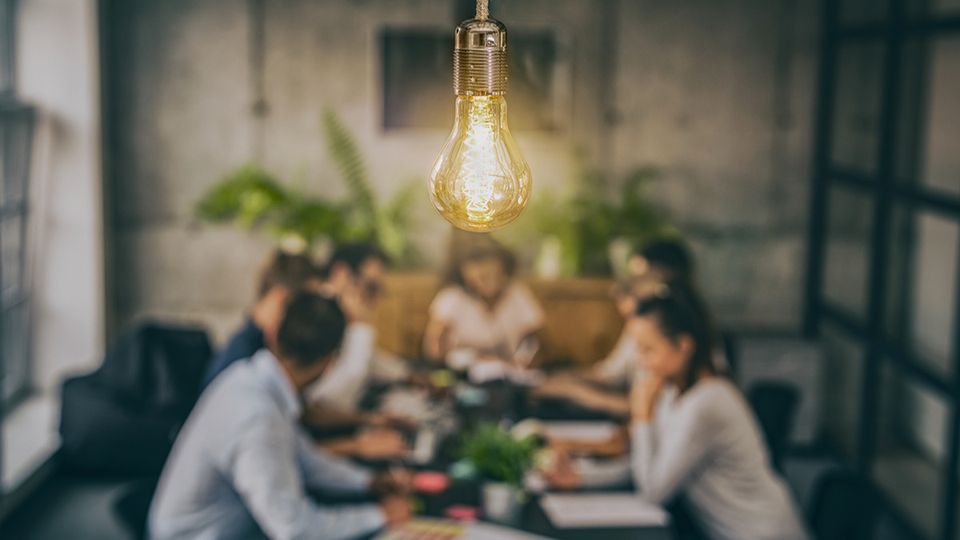 15 Low-Cost, Offline Marketing Ideas to Promote Your Directory Website
Published on September 14, 2021
One of your main goals as a local business directory owner is to find effective and affordable ways to drive traffic to your website. Promoting your site online is often a great place to start and there are plenty of options. From social media marketing to pay-per-click ads to search engine optimization, there are countless ways to market your website online. And while these digital marketing strategies continue to prove to be effective, the most successful directory owners utilize a combination of both online and offline marketing strategies to drive traffic to their site, and ultimately, generate more sales.

Offline marketing is any promotional activity that incorporates traditional offline media practices. Television ads, radio ads and billboards are all examples of offline marketing tactics, however many of these can be prohibitively expensive - especially if you're just starting out.

In this article we'll share 15 low-cost, offline marketing strategies to help drive traffic to your directory website.
1) Hand out business cards
Everyone in your community is a potential customer. Investing in business cards is an affordable and effective way to spread the word about your directory. Handing them out to potential advertisers and local residents, pinning them to bulletin boards, and leaving them behind at your favorite restaurants increases the chances of your directory site getting traffic.

Make sure your business card includes your directory logo (be sure to get it professionally designed), website URL, and your contact information so potential advertisers can easily reach you. Business cards are super affordable and can cost less than $20 to print 500 cards.

As an Ideal Directories website owner, you have access to our professionally designed business card template that features a spot for a QR code that's linked to your directory website. Busy consumers and advertisers simply need to scan the QR code with their cell phone camera to go directly to your website.
2) Distribute brochures or flyers
Brochures and flyers can be impactful "leave behind" pieces to have with you when meeting potential advertisers. Brochures are typically printed on the front and back of a 4-page foldout, and a flyer is often a one-sided single page sheet. Both can be used to highlight the benefits of advertising on your directory.

At Ideal Directories, we offer two sales flyer template options and a 4-Page Sales & Marketing Brochure template that can be customized with your logo, directory URL and your contact information. We can customize them for you, or you can do it yourself for free. These professionally designed promotional materials can be found in the Sales & Marketing Resources section of the Ideal Directories Support Center.
3) Create window stickers
Because you're offering a valuable resource that the entire community can benefit from, you'll often find that most local businesses will happily display a window sticker promoting your directory in their storefront. After all, getting more visitors to your site helps get more potential customers to their business so the more businesses that participate, the better it is for everyone. You might even want to incentivize them by offering them a discount on a listing.

Window stickers or decals can be made at any local print shop or online on sites like Sticker Mule. Be sure to include your directory logo, URL and QR code to make it easy to turn window shoppers into website visitors.
4) Get vehicle magnets
Invest in a set of branded vehicle magnets for your personal car, and anyone else who is willing to put one on their car for you (like salespeople or even family). Over time, vehicle magnets can help build brand awareness and generate traffic to your site as more and more consumers and advertisers see you driving around town.

Vehicle magnets are inexpensive to produce and can easily be removed without damaging your car or truck. You can design them to match your website's brand and even include some of the participating businesses that are featured on your site. include a short and captivating message like "Looking for money saving coupons? Visit directoryname.com" or "Advertise your business locally. Visit directoryname.com".
5) Donate gift certificates
Is the local high school holding a silent auction? Is there an upcoming community event or parade? Events like these can provide a great way to build your site's awareness in your town or city.

Create branded gift certificates that are redeemable at any business that's advertising on your directory. The community will love it and so will the businesses on your site. Plus, you can control how much each gift certificate is worth so it's extremely affordable. If it proves to be a success, you can run a sweepstakes or promotion on social media and give away a gift certificate each month.
6) Utilize QR codes
QR Codes are convenient because anyone with a cell phone can scan the code to instantly be sent to your directory website. Consider creating and adding a QR code to all of your online and offline marketing materials including business cards and flyers.

You can easily create a QR Code for free here: https://www.qrcode-monkey.com/.
7) Host a seminar
Hosting a seminar at your local library is an affordable way to spread the word about your directory. A library provides a recognizable and safe venue, and is oftentimes a hub of activity in a community. The best part: hosting a seminar at a library is often free.

Be genuine and fill your presentation with valuable information. You can talk about local news and attractions in the community you serve or share some online marketing tips for small businesses (including a listing on your directory).

Be sure to focus on providing quality content that your attendees can benefit from, even if they don't buy from you. If your seminar reeks of being "too salesy," you'll waste the opportunity to build key relationships that will pay off over the long run.
8) Sponsor a community event
Sponsoring a local community event is a great way to get your brand in front of a large number of people in your core audience. Community events are typically attended by both local consumers and local business owners so it can help drive traffic to your site, and attract potential advertisers.

Create a custom banner or table covering and have your marketing materials ready to hand out to maximize the exposure, and ultimately traffic to, your directory website.
9) Sponsor a local sports team
Get your brand on a local sports team's uniform. This tried and true strategy will build credibility and establish your brand as a bona fide member of your community. As you grow your business, consider sponsoring one local team in each sport for year-round brand exposure.
10) Mail out postcards
Postcards mailed to local businesses can include screenshots of your directory, pricing, a few benefits, and a QR code to encourage recipients to get listed on your directory. You can also send different postcards to local consumers that highlights your directory and the fact it includes access to coupons and event details.

Postcards are relatively inexpensive to produce and mail out. Some companies like Taradel will design, print and distribute your postcards for as little as $0.30 each.
11) Advertise in print
Running a print advertisement in your local newspaper can be a cost-effective way to drive traffic to your site. The ad can include enticing copy aimed at consumers such as, "Looking for more coupons? Check out our directory website..." Local newspapers also traditionally have a high readership which includes business owners who live in your community so it can be a great way to promote your advertising options.

While the cost to advertise in print varies from newspaper to newspaper, you can often find the best prices in your local community newspaper or pennysaver.
12) Join a chamber of commerce
Chambers of Commerce exist to give local business owners a chance to network in person at meetings and Chamber events. Joining a chamber of commerce establishes your credibility as a local business owner who's in it for the long run. You can pass out business cards and flyers and pitch other chamber members (local business owners) on advertising on your site.

While the fees for joining a local chamber vary from city to city, oftentimes it's as little as $100 per year. This is a small price to pay compared to the opportunity it offers.
13) Go door-to-door
Gather your business cards and marketing materials and get ready to hit the streets. Going door-to-door might feel intimidating, but it's still one of the most effective (free) ways to meet potential advertisers and earn their trust. It's also a great way to build awareness and spread the word about your directory website in your community.

Make it a goal to stop by and introduce yourself to a certain number of advertisers each day. Make the most use of your time by planning your visits to specific hours and targeting concentrated areas of businesses so there is less traveling required.
14) Wear branded apparel
Now that you have your professionally designed logo, you can imprint it on hats, shirts, bags and jackets. Wearing branded apparel shows you're serious about your business and gives the appearance that you're a credible brand. Some advertisers might even think you're much bigger than what you are, providing peace of mind and assurance in your legitimacy.

You can get branded apparel made at promotional product dealers like 4 Imprint and ePromos.
15) Distribute promotional products
Similar to wearing branded apparel, distributing branded promotional products is a great way to build brand awareness, keep your directory top-of-mind and drive traffic to your website. You can choose from thousands of products including pens, mouse pads, coffee mugs, calendars and more. The prices vary based on the product but there are plenty of affordable options available.

Given the limited space available on most of these products, focus on keeping your directory name and URL the center of attention. Remember, your goal is to get people to visit your website. 
Conclusion
It's important to remember that just because you're running an online business doesn't mean you need to spend a lot of money or limit yourself to only online marketing tactics. By blending both online and offline marketing strategies, including the 15 affordable options mentioned above, you'll have a well-rounded overall approach to driving more traffic to your directory website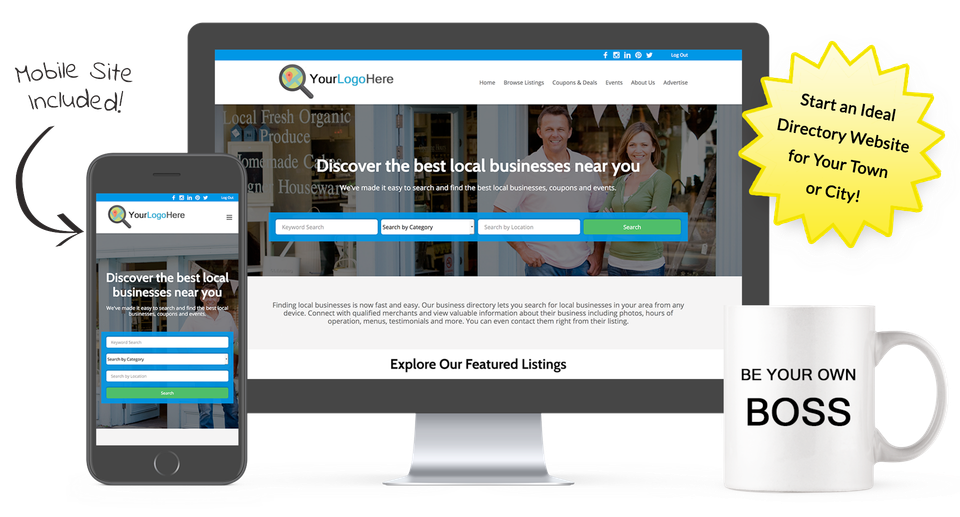 Start a Directory Website for Your Town or City with Ideal Directories!
Make money promoting local businesses, coupons & events in your area.