11 Benefits of Advertising on a Local Directory Website
Published on December 30, 2022
A record 93% of all online experiences begin with a search engine interaction? This is a significant opportunity for small businesses looking to increase their online visibility.

Local advertising is particularly important for attracting potential customers. By featuring your business on a business directory website, you can improve your chances of being noticed when consumers search for keywords related to your business.

If you're interested in learning more about the benefits of advertising on business directory websites, here are 11 reasons why it can be advantageous for your business:
11. Helps Reach a More Targeted Audience
In a competitive marketplace, getting your small business exposure is essential. You need a way to extend your reach and find the audience most likely to search for your business's needs. Local advertising targets consumers in your business demographic by more specific search terms, locations, and interests.

78% of consumers use the internet to search for local businesses. This is an extensive local advertising and marketing area you can reach with a business directory website.

Don't throw a wide advertising net out on the internet and come up short. Instead, you can aim your focus on a more targeted advertising area and audience demographic. They are more likely to see it and respond.
10. Improves Search Results
With so many competing search results online for a single search term, getting your business to stand out can be challenging. A business directory website helps to elevate your ranking on search engine results. Paid ads and services that claim to give you a boost in rankings may not be as legitimate as they seem.

Local advertising on a business directory site gives you a more organic boost through SEO keywords. These keywords target popular and possible search terms that link to your site's content.

Offering promotional coupon codes for local businesses is a great way to increase your ranking since everyone is looking to save money while still supporting local businesses in their area. Searching for local deals will bring up your business directory page and link your consumer base to your business.
9. Builds Trust and Credibility for Businesses
Top-listed ads may not be the best because they've been paid to be boosted. Consumers need another way to vouch for your business's credibility and trustworthiness.

Businesses must gain their consumers' and potential consumers' trust. You must establish and build up a rapport with them.

Using a business directory website builds legitimacy for businesses. It directs them from significant search engines to your listing and shows them the benefits, products, and services your business offers.

A directory allows consumers to click on listings and learn more about your business. Some business directories also allow for reviews of the company to be posted so other consumers can see a business's reputation.

This helps build the potential for a long-term and repeat business relationship with consumers. They will see your business as a more reliable and trustworthy option.
8. Provides a More Cost-Effective Advertising Alternative
Business marketing and advertising mediums can be costly. Businesses can spend most of their budget on primary advertising mediums with little to no return on investment (ROI) to show for it. For small businesses struggling to maintain a foothold, this can be detrimental to their livelihoods.

A business directory website is a better use of your resources and advertising budget. It is a more targeted method of advertising. You're not wasting money on an international reach when you only want to focus on local advertising.

Local advertising through a business directory can also offer a higher ROI. You receive more value than you would with expensive paid ads for a minimal cost. 
7. Put Your Business Information in One Place
Nothing puts a customer off of a business faster than a bad experience. If they have to struggle and search to find your business's information online, they may just refrain from doing business with you altogether.

Business directory websites make it quick and easy for your customers to find the information they need. Any contact information is there in one central listing for them to view. They can see your phone number, email address, store location, and website together in one click. They can even go directly to your website from the listing.

This is an effective way of giving consumers an accessible platform to simply connect with your business. 
6. Access to Your Business 24/7/365
One of the top advantages of business directory websites is that they are always available and accessible. No matter what, your listing is there, providing local advertising to consumers so you can reap the benefits day or night, 24/7, 365 days a year.

You can update your business listing whenever you need to from wherever you are, so your information is always accurate. With online directories, you don't have to worry about site maintenance; that's handled for you.

While you're busy at work running your business, your business directory website is also working overtime to advertise to your consumers. It does the heavy lifting to help promote your business so you can focus on other vital aspects.
5. Utilizes Mobile and Voice Search Capabilities 
With the increase in mobile smartphone usage also comes a unique opportunity to increase the use of local advertising. Modern smartphones utilize GPS capabilities. This makes it even easier to tap into targeted location-based searches wherever consumers are.

Mobile searches now exceed those made on stationary desktop computers. A smartphone's portability makes it ideal for consumers to research businesses and products before purchasing. Voice search capabilities allow consumers to search for business listings near them hands-free while driving or multitasking.

Using a business directory website allows small businesses to target consumers strategically. 
4. Generates More Leads for Local Advertising 
Lead generation is a necessary part of the advertising and marketing process. While it may not result in an instant sale, it helps build up a following of potential consumers for sales later.

Brand awareness is a method of exposing consumers to your brand through impressions. Each time a consumer views your brand, it creates impressions. The old rule of marketing states that it takes seven impressions for a consumer to make a sale.

Even if a consumer is not ready to make a sale with your business, a business directory website can help your business make an impression on them. When they are prepared to make a sale, your business will be at the forefront of their mind.
3. Drives Traffic to the Website or Place of Business
In the modern era, establishing and maintaining an online presence is critical. The whole point of online advertising is to reach new and potential customers to your business. A business directory website helps your business get noticed by consumers.

It helps increase traffic to your place of business or website. The more eyes you have on your business listing, the more exposure your company will receive because of this.

Whether you're a small business just starting out or trying to adapt your marketing campaign to improve sales, a business directory gets you noticed. With all the great benefits of business directory websites working for you, your business will thrive.
2. Increases Website Conversions
For businesses offering website-based products and services, conversions are the ultimate goal. Depending on the products or services you offer, this could be anything from filling out a contact form, signing up for an email list, or completing an online purchase.

Conversions are what happens when leads turn from potential customers to actual customers. They've taken that next step to engage with your business.

A business directory website acts as the go-between portal for your business and customers. They can access your business from the directory when they're ready to take that next step. Rather than being influenced by a paid ad, a business directory feels like a more organic approach for consumers to connect with your business.
1. Bolsters Your Sales and Revenue
You get increased local advertising exposure and access to your business information through a business directory. Your business benefits from an effective advertising campaign's ultimate result: increased sales. All of the advantages of business directory websites work hand-in-hand to format a plan for your business.

Local advertising drives more consumers to your business. When searching on a business directory website, your business will be front and center to view. Consumers will be drawn to your business listing and their ability to connect with your business efficiently.

As a result, your sales will increase, your business's revenue will improve, and you can grow your business. 
Enhance Your Business's Local Advertising with a Business Directory Website from Ideal Directories
A business directory website amps up a business's local advertising capabilities. It's also a great way to make passive income by selling advertising space to businesses in your area. Ideal Directories can help you start your own business directory.

The Ideal Directories software program enables you to create your own online business directory and coupon website for your local advertising area. The directory platform includes a turnkey operation with everything you need to get started. Sell listings and advertisements to local businesses and make money.

Contact us to request your free business directory website information pack and get started today!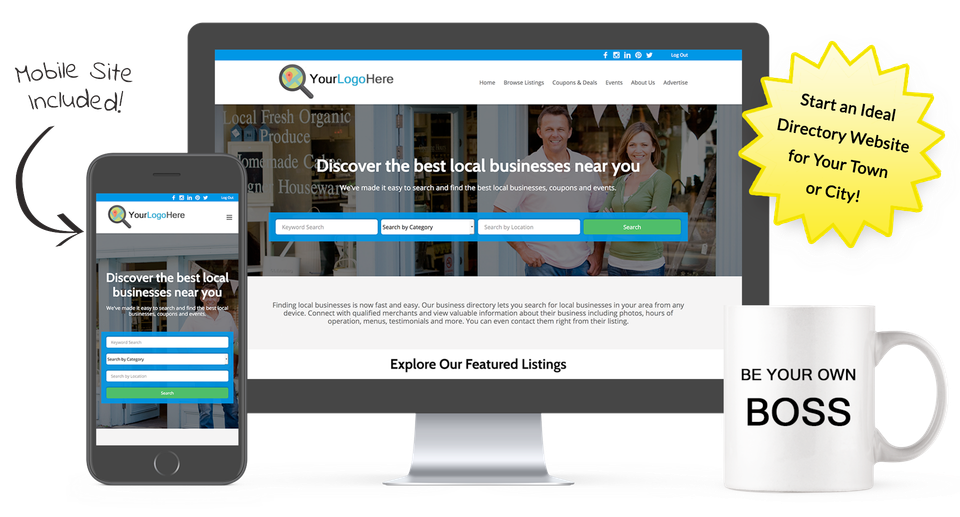 Start a Directory Website for Your Town or City with Ideal Directories!
Make money promoting local businesses, coupons & events in your area.