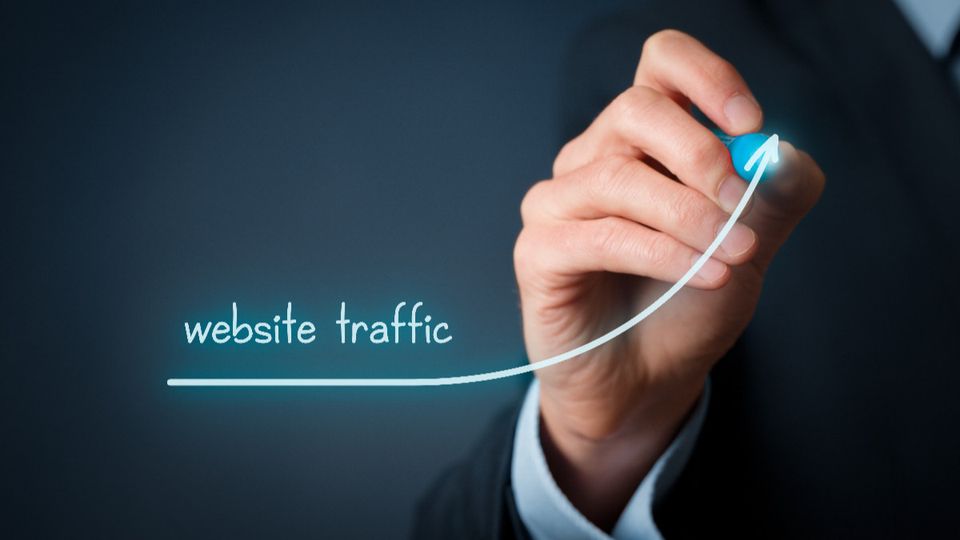 10 Ways to Increase Traffic to Your Business Directory Website
Published on June 23, 2021. Updated on April 19, 2022.
Generating website traffic is an important part of running a successful business directory website. While you don't need a lot of traffic to begin selling listings, you'll want to build traffic to your site overtime so you can prove the long-term value of advertising on your website. If you can attract local consumers and keep them coming back to your directory website, you'll have businesses lining up to pay for a listing on your site.

There are many ways to generate traffic to your website, some free and some paid. As you continue to run your directory website it's beneficial to explore all the different ways to market your site and see which produces the best results for your business.

Here are 10 of the most popular ways to increase traffic to your business directory website.
1. Promote your site on social media
Promoting your directory website on social media platforms allows you to get your directory in front of people in your community. With billions of active users, Facebook is a great place to start promoting your site for free. You can create a Facebook Company Page for your directory website and post content that appeals to both local consumers and advertisers. Every time you make an update or post, include a link to your directory to help drive traffic to your website.

The great thing about social media is that you can post just about anything you like, as often as you like. You can highlight the different advertisers on your site, the latest coupons that were added, and share relevant information about local events and activities in your community. Staying active is key to generating a steady stream of traffic from Facebook. As long as you post consistently, your brand and the brands of the advertisers you promote will stay fresh in the mind of your target audiences.
2. Optimize your site for local search
Search engine optimization is a vital component to building organic, free traffic to your website. Including the words and phrases people in your community use when searching for local services will increase the chances of your directory appearing in search results for those "keywords."

Be sure to complete the Meta Tags for each page and listing on your site to optimize the chances of being seen. Meta tags are the unique terms you assign to the title, description, and keywords for each page.  Including words like, "business directory", "coupons," "deals," and "directory" along with your local area's name is best practice. The more specific and the more tailored to your local community, the better. 
3. Submit your directory website to search engines
Submitting your directory website to the major search engines like Google is an important but often overlooked step in setting up a directory website. Submitting your site lets the search engines know your website is live and to begin crawling your site for content. The search engines then index your site's content and use it in relevant search results. This can help improve search engine rankings and drive traffic to your website when people search for local businesses and coupons in your area. We recommend submitting your directory, not just when you launch your site, but on a regular basis as you continue to add listings and content.

Ideal Directories makes it easy to submit your directory to Google, Yahoo, and Bing with the built-in Search Engine Submission Tool. With just one click, you can submit your directory website to the major search engines right from your Dashboard. There is even a monthly option which will automatically resubmit your site every 30 days to help keep search engines aware of any updates made to your site.
4. Pay for advertising 
Paid advertising is probably the fastest and most effective way to increase traffic to your website. There are many different advertising options available including offline advertising, like newspaper ads and direct mail, as well as online advertising such as Google and Facebook Ads. If you want an immediate boost in traffic to your site, Google Ads might be your best option.

With Google Ads you can bid on specific keywords relevant to your site like "local coupons" or "local businesses near me". You can also focus exclusively on the community you serve so you don't waste money attracting people outside your service area. When someone clicks on your ad, they get taken to your site. You're able to measure the results and control your spending by setting a daily budget. Like a flick of a switch, you can immediately start getting local traffic to your directory website. However, it's easy to overspend on Google Ads so be sure to monitor your ads and focus on those that provide the most bang for your buck.
5. Add more listings
They say "content is king" for generating website traffic. In the case of a directory website, your listings make up the majority of your content. Every listing you add to your site increases your chances of being found when a shopper searches for a product or business that's featured in your directory. The more listings you have on your directory, the better the chances are that your site will show up high in search results. This includes free listings as well as paid listings.

By adding local business listings to your directory website, you are providing more content for search engines like Google to crawl. Each business that you add to your site becomes a potential source of traffic that can benefit everyone and increase the value of advertising on your directory.
6. Start an email newsletter
Starting an email newsletter is another great way to generate traffic to your directory. Sending a monthly, weekly or even daily email to your subscribers is a great way to keep your brand top-of-mind and attract visitors to your website. Aweber, Mail Chimp and Constant Contact are three email marketing platforms that are easy and inexpensive to get started with.

When starting any email newsletter, the most important thing is to build your subscriber list with people who agreed to receive communications from you. You should never add a subscriber without their permission or consent. One of the great things about Ideal Directories is that visitors are encouraged to subscribe whenever they share a coupon or deal on your site. You can also add a banner or pop up form so people to enter their email address from any page of  your directory.

Looking for ideas for what to include in your email newsletter? Include a personal or seasonal message and spotlight a few advertisers, events and coupons in each newsletter. You can even sell banner ads and sponsorships to monetize the newsletters even further.
7. Write a press release
A press release is a great way to let the world know your directory website exists. Whether you are announcing the launch of your directory or a notable update, a press release is a great way to get the word out.Press releases generate traffic to websites because they can be shared with thousands of news outlets and can include a link back to your directory.

While you can manually submit your press release to most news outlets, using a service such as PressRelease.com lets you share your story to hundreds or even thousands of media outlets at one time. Use this as your opportunity to tell the world about your directory, how it works and how businesses can take advantage by creating their own listings.
8. Utilize QR codes
A QR code is a unique barcode that allows companies or products to easily share information. Using your phone's camera, you can scan a QR code and get taken to a web page to learn more. There's no need to remember a specific URL or domain name. It's commonly used as a simple way to drive traffic to a website.

Adding a QR code to your marketing material including brochures, business cards, and postcards makes it easy for people to scan and visit your directory. You can even create window decals that include the QR code and stick them to the storefronts of all of your advertisers. QR Code Monkey is a free service you can use to create a custom QR code for your directory website.
9. Build backlinks
A backlink is a link to your website from another page or website on the internet. Backlinks generate traffic to your directory whenever people click on them. Search engines will often scan to see how many backlinks a website has to determine their overall ranking. The more backlinks a site has, the more reputable and relevant they will be considered.

While there are some paid services that can help you build backlinks, there are many things you can do on your own for free. One way to build backlinks is to encourage all of your advertisers to include a link on their company website to their listing on your directory. Another way is to reach out to local community organizations and ask them for a link to your directory site from their website. Most organizations will see your directory website as a valuable resource to the community and will be happy to add a backlink to your site.
10. Sponsor local events
Sponsoring a local event in your community is a great way to build awareness about your directory and generate traffic to your site. You might be surprised at how many local events occur every week in communities across the country. Business networking events, youth sporting events, and even religious events all provide you with the opportunity to promote your directory to consumers and local business owners in your community.

Here's a tip: find out when your local chamber of commerce meets and prepare to attend by printing out business cards and other marketing materials with your directory website URL to hand out or leave behind. Use this as an opportunity to rub shoulders with fellow business owners and talk about how your directory website can help get them more visibility and customers. Business owners don't want to feel like they are missing out on an opportunity their competitors are capitalizing on, so be sure to have enough sample listings in your directory to ensure potential advertisers can feel the fear of missing out.
Summary
In this article we touched on just 10 different ways to increase traffic to your business directory website. From social media, to search engine optimization, to in-person networking, these are just a small sample of the things you can do to help boost traffic to your website. But there are many more. Don't be limited to the ideas listed here, get creative and seek out other ways to drive traffic to your site. Some methods will be more effective than others and the only way to find out is through trial and error. Don't limit yourself to just one or two either. The more tactics you implement, the greater the results. For more great ideas on how to market your business directory website, check out our e-Book.

If you've been thinking about launching your own business, contact us and let's work together to get your directory website business started today.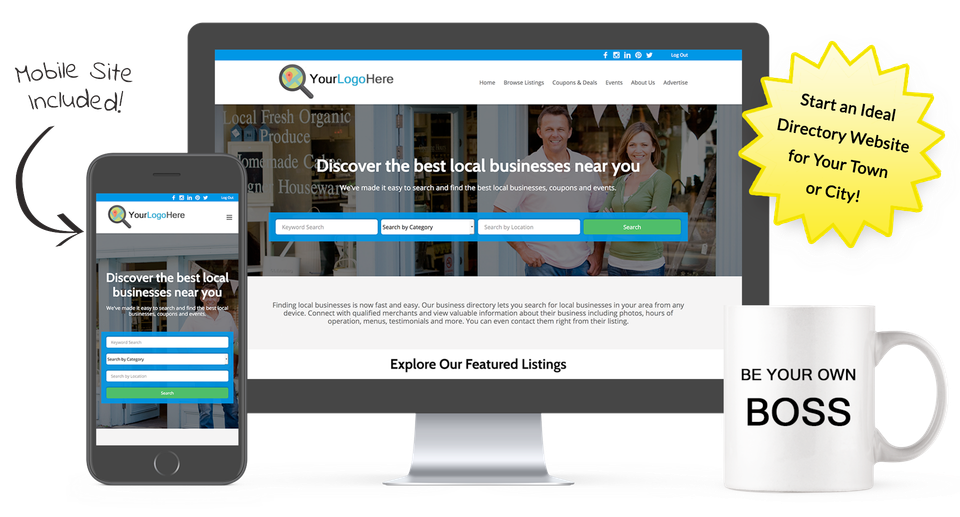 Start a Directory Website for Your Town or City with Ideal Directories!
Make money promoting local businesses, coupons & events in your area.