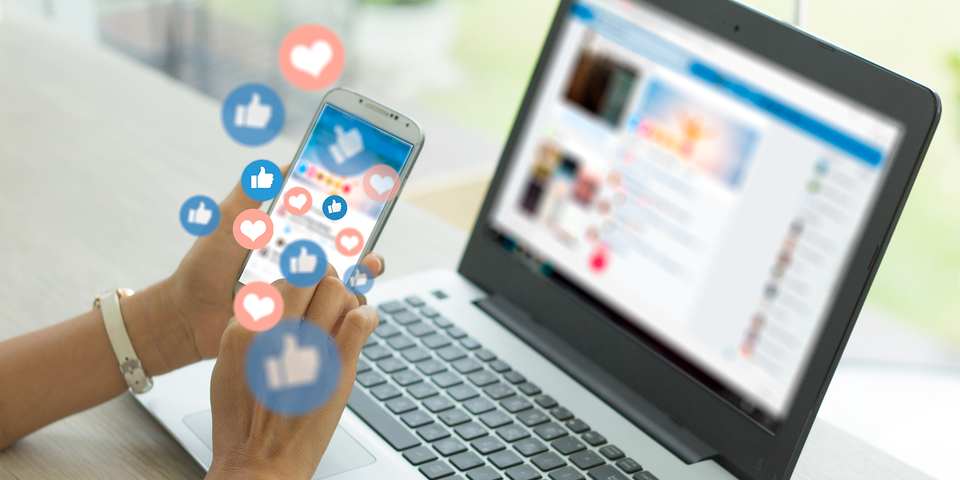 5 Social Media Platforms to Market Your Business Directory Website
Published on March 11, 2021
Social media platforms can be a powerful resource that you can use to drive relevant traffic to your business directory website and reach potential advertisers. Whether you're just getting started with Ideal Directories, or have owned a directory website for years, using the 5 social media platforms we'll introduce to you today is a great way to promote your site's listings, deals, and events.

Here are the 5 platforms we recommend, along with a few actionable ideas you can use to grow your directory's presence on social media today...
1. Facebook
With over two billion active monthly users, Facebook tops the charts as the most popular social network in the world. Facebook users typically use the platform to stay in touch with friends and family, which makes it a powerful tool for word of mouth marketing. You don't have to be on Facebook long to find people bragging about their favorite local businesses, posting photos from their recent experiences, and sharing the latest coupons and deals they found. For businesses, Facebook offers a unique opportunity to tap into the local market and promote your brand.

Start by creating a Facebook business page for your directory website and post to it daily. Focus on posting content that appeals to consumers, local businesses, and potential advertisers. Sharing local news stories, upcoming events, and coupons from your directory website is a great way to engage local residents so they'll visit your site to learn more. To appeal to local businesses and potential advertisers, use Facebook to share small business marketing tips, and talk about the benefits of advertising on your directory website. Join, or create, a local community group to better engage with the local community you're serving. Use Facebook Messenger to reach out to local business owners directly and invite them to join your directory.
2. Instagram
Instagram users post pictures and videos using Instagram's phone app. There's some low hanging fruit as well: of the one billion people who use Instagram each month, 80% of them follow a business. Hashtags are popular on Instagram and can be leveraged to easily join the conversation in your community, and to make your business directory website visible to a wider audience.

You can get started by setting up a free Instagram Business profile. Posting photos from the listings on your website, and including the advertiser's Instagram profile along with relevant local hashtags, is an easy way to market the listings and your directory website all at the same time. Take selfies from your workstation editing a listing or enhancing your site. Encourage people to tag you in photos from other local businesses who are featured on your directory site.
3. YouTube
Two billion users consume more than one billion hours of video every day on YouTube, making it the second largest social platform in the world. YouTube also ranks as the second largest search engine in the world, trailing its owner, Google. Even if you don't want to be on camera, incorporating video into your business directory marketing strategy will benefit your business with brand recognition. Include a link to the Coupons & Deals page on your site in the video descriptions to encourage consumers to start benefiting from your website right away.

To get started, create a YouTube channel for your directory website. Create an instructional video that shows businesses how to create or claim a listing on your site. Record a short commercial showcasing your directory website and the benefits it offers to both consumers and advertisers. Capture a video testimonial from one or more of your advertisers. Find a local consumer who can talk about why they love using your site. 
4. Twitter
330 million people use Twitter every month to interact with other users, and to stay updated on the latest news of the day. Statistics show 60% of a brand's followers are more likely to purchase or recommend products after following a brand on Twitter, so making sure your directory website has a presence on this platform is highly recommended.

Find and follow local businesses in your area. Share their Tweets as part of your strategy to show you're active and interested in helping them get more customers. Tweet out new coupons & deals featured on your site to grow your following. Include local hashtags and compelling images to attract as many visitors as possible. Post regularly to keep your community updated on the best coupons and deals your directory website is currently offering.
5. LinkedIn
Boasting more than 660 million registered professionals, LinkedIn is the largest resource for business-to-business marketing on the planet. LinkedIn generates 277% more leads than Facebook, making it the perfect platform to find and engage with potential advertisers for your directory website. Not only will being active on LinkedIn grow your brand's awareness, it's likely some of its users will visit your site as consumers to check out your listings, events, and coupons.

Update your personal LinkedIn page to state you're currently working at your directory site. Create a separate business page for your directory. Post information about the importance of advertising locally. Join Groups and jump into conversations about the community or local business marketing.
Start marketing your directory website on social media today!
While it's ideal that your business directory website has a presence on each of the 5 social media platforms we introduced you to today, it's okay to focus on growing your brand's awareness on one platform at a time. You might want to do some research to determine which of these 5 networks your audience spends most of their time on, and use the guidance we shared as a starting point for marketing ideas.

Want more ideas for marketing your directory website? Check out our blog for more articles and advice.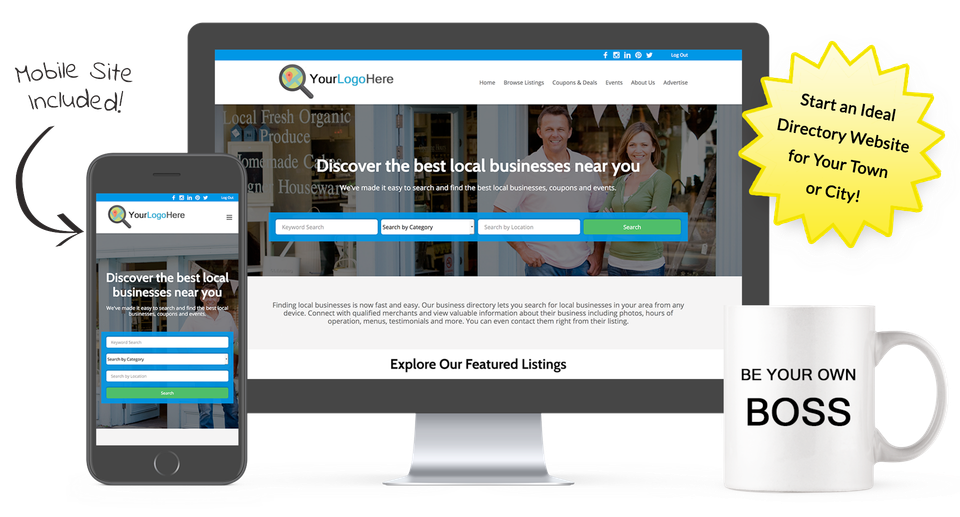 Start a Directory Website for Your Town or City with Ideal Directories!
Make money promoting local businesses, coupons & events in your area.