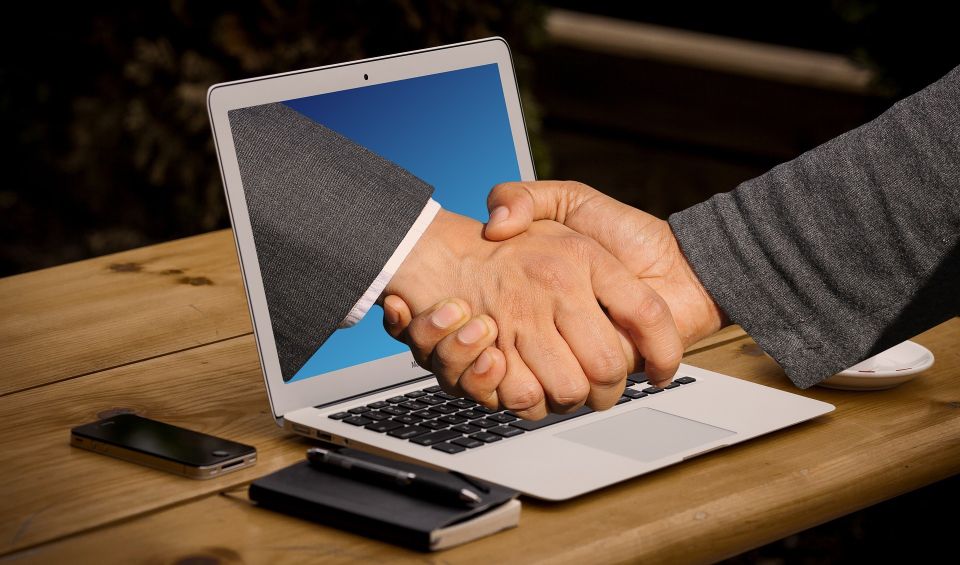 4 Ways to Sell Directory Listings to Local Businesses
Published on October 4, 2021
When it comes to sales, there's no such thing as "one size fits all." There are many different ways to approach sales, and depending on the product or service that you're selling, some tactics will work better than others.

Thankfully, selling directory listings to local businesses is something that can be done using a variety of sales methods. From face-to-face, to cold-calling businesses, there are many different approaches you can take. In this article, we'll outline some of the most common (and effective) ways to sell listings to local businesses, along with some tips that support each strategy.

If you're running a business directory website with Ideal Directories, or thinking about starting one, here are 4 ways you can sell directory listings:
1. Face to Face
Selling listings face to face involves visiting different local businesses where you would introduce yourself, ask if the owner is available (you'll want to make sure you're speaking to the decision maker), highlight the benefits of advertising on your site, explain the different plans/pricing your offer, and ultimately ask for the sale.

When selling face to face, your personality, appearance and attitude are all very important. You're selling more than just a listing on your directory website – you're selling yourself! Be sure to have a positive attitude and talk about your directory website with enthusiasm. Explain how you started your directory website as a way to serve your community and offer businesses an affordable place to advertise. Your goal is to earn their trust and build a relationship that you can nourish into a sale.

When selling face to face, make sure not to visit during really busy hours. For example, it's not a good idea to approach a restaurant owner during their busy lunch and dinner hours. If the owner is too busy, they might not be receptive to talking with you. If the owner or decision maker is not available when you visit, ask to come back at a better time and leave a business card, flyer or other marketing material with them to review at their convenience. While they may not be ready to make a buying decision right then and there, they might be open to doing business with you when they are able to reconnect.

Another great way to sell listings face to face is to join your local chamber of commerce. As a chamber member you'll have the opportunity to attend a local networking event (often hosted every month) and meet dozens of business owners face to face, all at the same time. Make sure to dress professionally, bring plenty of business cards and brochures, and don't be shy about promoting your site. Take the time to get to know all of the other members and which businesses they own. You might even want to offer an exclusive chamber member discount using our Coupon Codes feature or offer some free advice on marketing their business. One of the keys to success with any networking event is to have the mindset of giving, moreso than receiving, so you can further boost your credibility. If you come across as a trustworthy and knowledgeable local marketing expert, businesses will be more open to advertise on your site.
2. Over the Phone
It's very common for directory owners to cold call local businesses and sell listings over the phone, especially with an affordable price point like $50/month. The great thing about selling listings over the phone is that you can reach a broader market without wasting time traveling from business to business. You could generate a list of prospects and begin dialing. Much like face to face selling, you'll want to focus on the benefits that a listing offers their business.

Does the thought of cold calling scare you? That's OK – you can hire someone to do the cold calling for you. If they make contact with someone who is interested and ultimately becomes a paying client, then you could give your sales rep a piece of the sale, known as a "commission."

Whether you or someone you hire does the cold calling, here are some extra tips for success:
Call at the right time – avoid busy times

Do some research to find out the decision maker's name and availability

Keep your pitch short and sweet

Maintain a system for following up with prospects (people won't always buy during the first phone call)

Don't get discouraged or take it personally – rejection and hang-ups are part of sales
3. Via Email
Email is another effective way to sell listings because you can contact a large number of businesses at one time. You might use email as a way to complement the other sales tactics or by itself. For instance, you could start off by sending a cold email to someone and then follow up with a phone call to ask if they received the email. Thus, email can be great for new salespeople who haven't overcome their fear of cold calling or as a way to "warm up" the lead.

Just remember that most small business owners are very busy, and your emails will need to be short and to the point. Additional tips for success include:
Verify the email address is correct and working (you can often find the email from the business's website)

Use an email marketing platform (such as MailerLite or MailChimp)
Use a professional email address (info@companyname.com ) rather than a personal gmail or other free email account

Come up with a good subject line – this will help determine if your email even gets opened

Include a link to your directory website in the email body

Test out different messages and subject lines

Be consistent by sending multiple emails to each prospect
4. Social Media
Sites like Facebook, Instagram, and LinkedIn can be great ways to connect with local business owners and sell listings on your directory website. Keep in mind that some industries will be more active on one platform versus another. For example, many food-and fashion-related businesses tend to be more active on Instagram while more B2B or professional types of businesses (such as accountants and lawyers) tend to be more active on LinkedIn. Facebook tends to have the best mass appeal, making it a great place to start your sales efforts.

When you are logged into your social media account, conduct a search for local businesses in your area and begin reaching out. You'll want to follow the same tips for via email such as keeping your messages short and to the point. Also try out different social media platforms to see which one works best in your area.

As time goes on, you'll get a feel of which social platform yields the best results. After you establish which one generates the most leads and paying clients, you can focus your efforts on that one. You could even run ads to reach more businesses and gain additional exposure.

Now that you know the different ways to sell directory listings, it's time to put these tips into action. Rather than limiting yourself to just one tactic, experiment with all 4 sales methods. No matter which one you choose first, consistent action and persistence are the real keys to success.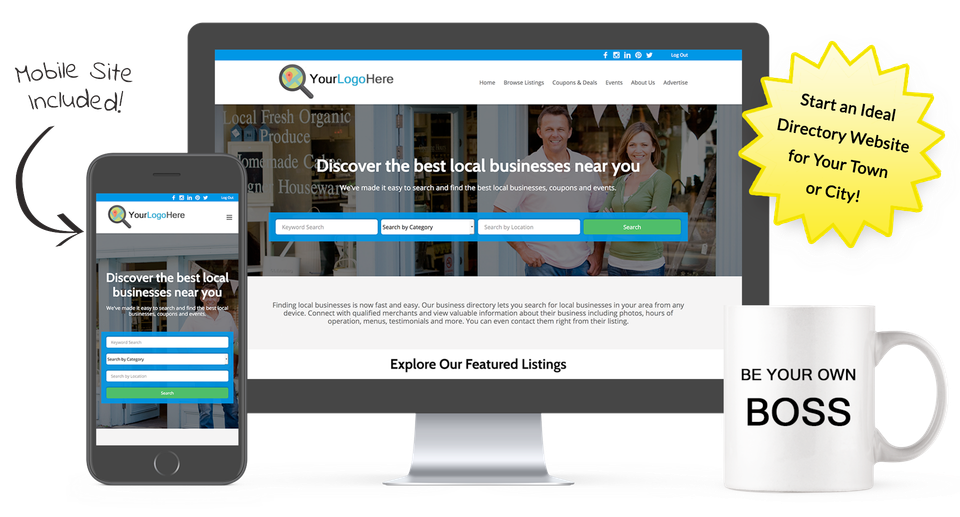 Start a Directory Website for Your Town or City with Ideal Directories!
Make money promoting local businesses, coupons & events in your area.