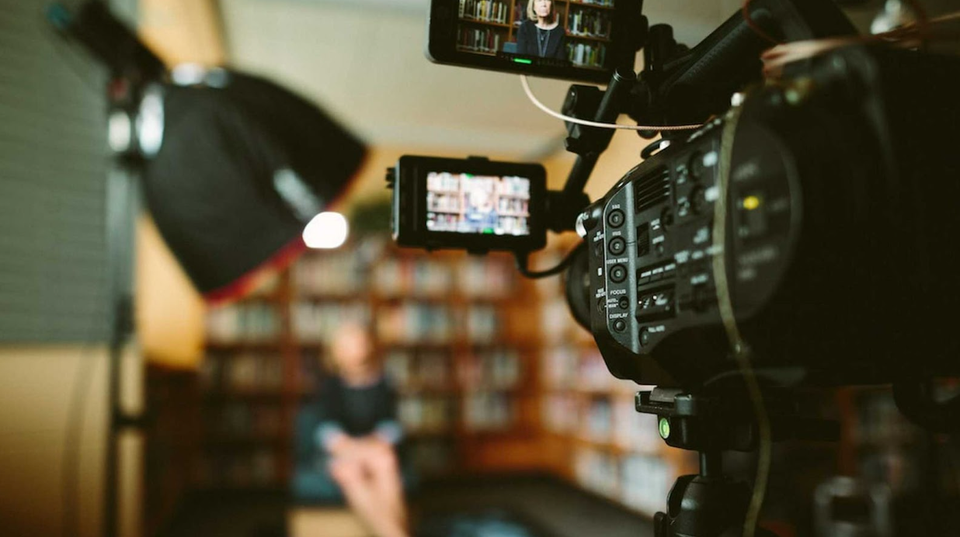 How to Use Videos to Promote Your Directory Website
Published on September 4, 2023
Successfully promoting your business can be a challenge if you're not sure where to start. But thanks to the internet, you now have a multitude of different methods to get your business noticed. With 5.16 billion internet users worldwide, a directory website can be a great way for businesses to promote their services and get themselves noticed by local consumers.

While directory websites streamline the process of connecting potential customers with businesses, an even more dynamic avenue beckons: using video content to propel your directory website's promotion. Using directory website video marketing can help you take your business to the next level.

Wondering how you can use videos to promote your directory website? Keep reading this post below for tips and ways to incorporate video content as a part of your digital marketing strategy.
Create a Promotional Video About Your Website
One of the best uses of directory website video marketing is to make a promotional video about your website highlighting its features, business listings and all the other great things your website has to offer.

In this video content, you should take particular attention to help showcase its features and benefits for users. Walk them through your site with a step-by-step guide for use. Give your potential customers a tour of your site.

Point out any areas of interest they should navigate to if they're looking for any specific information. If you're plugging a particular product or service, highlight this in your video.

Another terrific way to entice customers is by notifying them of any special promotions or sales you may be offering on your site. For example, you could make mention of any sales or promotions that your advertising is offering exclusively on your directory website. Since customers want to get a good deal on products and services, you can further pique their interest level this way.

A record 86% of businesses use video marketing as a part of their digital marketing strategy. This is a surefire way to get more eyes on your website  since video content attracts more attention than other forms of content. This will be especially effective when used in conjunction with your other marketing efforts such as social media and email campaigns.
Create Instructional Videos for Users
One of the first videos you may decide you want to create can be a simple instructional video for consumers and advertisers, respectively. For advertisers, you can focus on concepts such as:
How to create and populate a business listing on your website 
How advertisers can make updates to their business listing 
How to select the category(ies) that they should be listed in 
Guiding website directory visitors through the process will help to streamline using your site to promote their businesses. You can also emphasize how fast and easy it can be, i.e. "Set up your business listing in under 15 minutes" to make it clear that your directory website is user-friendly.

For consumers, you can focus more on navigation and the different elements of your website, such as:
How to search for businesses 
How to find coupons and deals
What information is on a business listing that would be helpful to them
Your site visitors will appreciate the visual assistance of a video if they are new to your directory and want to learn how to make the most out of their experience navigating on your website. 
Incorporate Webinar Video Content
Educational webinars allow you to share industry knowledge with other like-minded professionals. You can use these videos as a part of your directory website video marketing strategy. Host live or pre-recorded webinar on a topic that would be of interest to your prospective advertisers. For example, you may host a webinar on "best practices for small businesses to market their business."

The average webinar garners between 500-1,000 new leads. So this can be an impactful way to elevate your digital marketing reach. By posting this video content to these webinars on social media platforms such as YouTube, you'll also create a way to link back to your directory website.
Use Videos to Showcase Listings on Your Website
One of the best ways to use directory website video marketing is to showcase your existing listings. It will also demonstrate to potential customers that your directory website values the businesses that it features.

You can achieve this through two methods. You can rely on user-generated videos made by these businesses on your directory website. Or you can also create your own professional videos of the businesses or services listed on your site.

User-generated video content is an easy and affordable way to get content for your business directory since it is provided by the businesses themselves for you. However, providing professional video content will also serve to give your directory a more professional-looking appearance. Using too much user-generated content may come off as looking too cheap and amateur. So, it is important to have a good balance of both types of video content on your website directory.
Use Video Testimonials from Satisfied Users
Another area of directory website video marketing you can use to your advantage is video testimonials. Using video testimonials spotlights customers who are happy with your service and emphasizes the value of your website. It does the job for you of helping to promote your directory website and also build up trust with any new business advertisers.

Any prospective businesses who are thinking of advertising on your directory website will hear these real testimonies from real customers. So it allows them to get a firsthand and honest review. Business owners are more likely to use a site where they hear from other businesses about their level of satisfaction, especially if it is a business similar to theirs.

After all, you can boast about your website directory all you want but it's hard to back up any claims made without proof. Video testimonials give you the proof you need to effectively back up these claims of your service straight from the customer's mouth.

It is feedback that is respected and reflects well on your business directory website as a reputable and trustworthy platform.
Collaborate With Businesses Listed on Your Site
For the successful use of directory website digital marketing, don't neglect to use the tools you have at hand to your advantage, the businesses you already have on your site. That's where implementing joint marketing campaigns using video content comes in handy.

This could include creating a video tour of a local business. It's a win-win scenario for both the business and your directory website. Their business gets featured while you also reap the benefits of putting your site out there front and center for others to see.

Featuring a different local business each week is great publicity for both parties involved. Businesses will want to show off this video content on their social media and business websites. Having your website directory logo in the corner will direct video viewers to look up your site for themselves.

Your existing business listings can be a great resource for new video content. Don't hesitate to reach out to these businesses. This symbiotic relationship will build up some terrific promotional material.
Include a Video Sales Sign-Up Page
Prospective customers visiting your site may only get the tip of the iceberg when viewing the basic layout. If you really want to help seal the deal, have a dedicated page for business sign-ups.

Embedding video onto a committed sales page lets businesses explore their options. This is where your potential businesses can get all of the details they need for signing up on your business directory website.

Even better, use video content to explain the bullet points of the benefits that come with purchasing a listing on your site. This will make it simple to understand things such as different membership levels and their features. You can detail the breakdown in membership pricing costs per month or year.

You can also feature limited-time specials such as money-saving offers that come with a yearly over the month-to-month packages. It's an effective form of directory website video marketing and promotion.
Use Search Engine Optimization for Your Directory Website
As a bonus tip, don't overlook the benefits of Search Engine Optimization (SEO). Using SEO can have a big impact on written content as well as directory website video marketing.

SEO allows directory owners to optimize their videos directly for search engines. It includes crucial search factors such as:
Whenever an internet user uses specific keyword search terms utilized on your site, it will reflect in the search results. This can be beneficial for websites like a directory. The right combination of SEO keywords can help your directory website rank higher in these search results.

Using these primary focal points of SEO will help drive more traffic to your directory website. A strategic use of SEO for video content will allow your site to rank higher in search results.

So, when you post video content on your directory website, don't forget to optimize it properly for search engines.
Start using Video Marketing for Your Directory Website 
A directory website can be an invaluable tool for promoting businesses. Video content expands and the reach your site can have in attracting more potential businesses to advertise. Video marketing also makes your site more user-friendly. It provides useful and informative content.

With Ideal Directories, you can launch your own website directory with ease. Our integrative software program will have your directory up and running in as little as 24 hours. Create a business directory and generate traffic to your directory website quickly and effectively. Learn how to get started with your own directory website!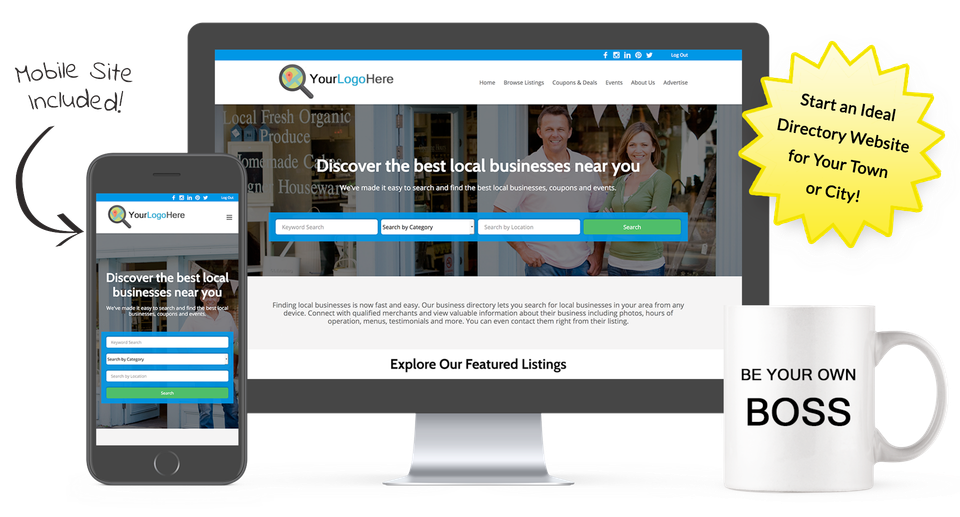 Start a Directory Website for Your Town or City with Ideal Directories!
Make money promoting local businesses, coupons & events in your area.