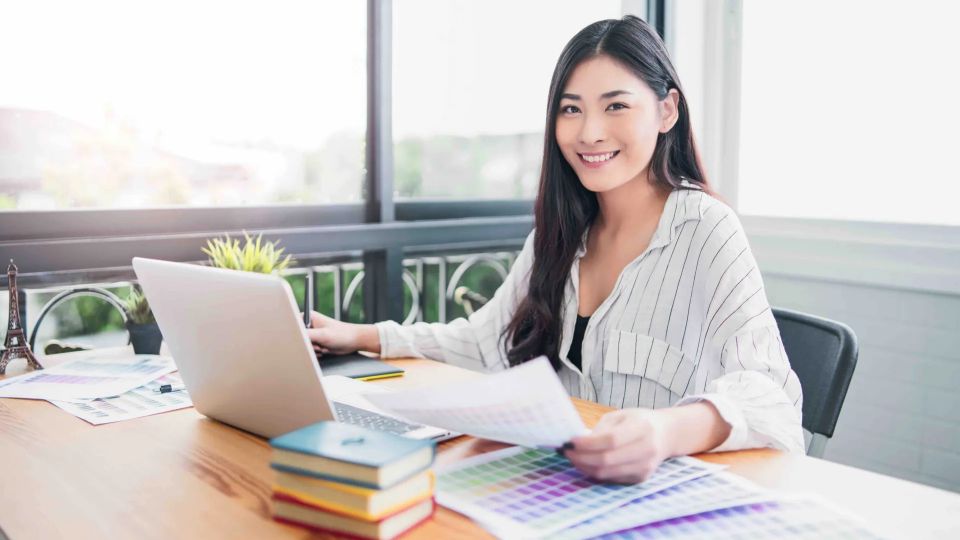 6 Tips for Designing Effective Banner Ads
Published on April 29, 2022
Businesses are always looking for different ways to bring in new customers. Banner ads are an effective marketing method that can help them reach their targeted audience, get their brand in front of consumers and drive traffic to their website.

When it comes to banner ads, it is important that they are designed to be visually appealing and to stand out amongst other imagery and text that might be crowding the page. In most cases, you have one shot to leave a good first impression and win over potential customers. In fact, did you know that first impressions online are 94% influenced by design?

Keep reading to learn about key elements that make banner ads effective and engaging. With these six tips for banner ad design, your ads will look great, garner clicks, and generate more conversions. 
What Are Banner Ads?
Banner ads are a type of online advertisement that can appear in different sizes. Typically, they are rectangular graphics that can appear vertical or horizontal and often have text, image, call or action or video.

You can find them on the sides, bottom, or top of the host website. When you click on a banner ad, it usually takes you to a new page where you can learn more about a product or service that is being advertised in the banner ad.

Banner ads are successful because they meet several criteria.

1. They're relevant to the audience
2. They stand out from other content on the page without being distracting
3. They're easy to understand and interact with
How to Design Banner Ads
When it comes to designing banner ads, you typically have two options.

1. Hire a Professional: Hire a graphic designer to create the advertisements for you. On job sites such as Fiverr, Etsy and Upwork, you can find professional graphic designers at an affordable rate.

2. Do it Yourself: If you want to tap into your creative side, you can go the DIY route. Take a course or watch Youtube videos to learn more about the different elements of graphic design and best practices. You can try easy-to-use platforms such as Canva. Canva offers free templates you can choose from that allow you to customize the designs, choose images and add a business logo. These learned traits could also come in handy in other aspects of your business. 
The Benefits of Banner Ads for Online Directories
When you run an online business directory, you're creating a resource for your local community. You help facilitate connections between small businesses and consumers and support the local economy.

In the same way, filling the advertising space on your directory website with banner ads can help businesses market directly to local consumers. While navigating through your directory website, visitors will be exposed to banner ads which could lead them to learn about a business in their area they didn't even know existed.

For the directory owner, banner ads can be an extremely lucrative opportunity to increase your earning potential. With Ideal Directories, it's easy to add and manage banner ads from within your Dashboard. With just a few clicks, you can upload a new banner ad to your site. In addition, you can view statistics including impressions and clicks allowing you to prove their value to advertisers.

When selling banner ads, design is essential for their effectiveness and success. So, here are a few tips to consider when designing banner ads.
1. Purpose Matters When Designing Effective Banner Ads
When designing an advertisement for your client, it's important to first understand their target audience. You'll already know that they want to market to the locals but, what other information about their ideal audience might you need to know in order to design banner ads that appeal to them. It may be helpful to do market research as your first step.

Ask yourself questions such as what do they like and where do they shop? Find out where they hang out online and offline. Find out how they think and what they want from a brand.

With this knowledge, you'll know how to win them over. After you identify who the audience is, decide on your ad purpose.

Goals for your ad may include: 
Increase brand awareness

Showcase a new product or service

Alert users to a sale or promotion

Announce an upcoming event

Increase phone calls

Drive traffic to a website or directory listing
Once you develop a "call to action", you can focus on designing an ad that will achieve that goal. Without this first step, your design won't matter. That's because you won't know who you're trying to attract without first understanding your target audience.
2. Go Bold with Your Banner Ad Design
The best banner ads stand out on the host website. Your goal is to showcase the business's brand and make a banner ad that will entice site visitors to click on the advertisement. One way to do this is by using powerful images, graphics, and words that appeal directly to your target audience and are relevant.

Use bright, eye-catching colors such as yellow, red, orange, or blue. When choosing the colors to use, try not to clash with the business's brand colors. For example, if there is orange in the business's logo, you may want to stay clear of a color like pink. Also, think about contrasting the text with the background color. So if you have a dark background, use light colors for the text and vice versa.

Motion works great to capture attention too. Consider gifs or subtle animation to make your ad pop.
3. Choose Images With Care
When choosing an image for your advertisement, you can take different approaches to get your point across. You'll also want to consider whether you want to use a stock image or authentic photo of the business.

For starters, you can pick images or animated graphics relative to the business's products or services. For example, if you're creating a banner ad for a local pizzeria, use an image of a pizza pie or slice of pizza within the graphic. This type of imagery is direct and straightforward.

You can take the approach of selecting an image that provokes an emotional connection, be it happy, funny, heartfelt, etc., to get viewers to click on the ad. Use images of people who look happy or an action shot. Let's say you're creating a banner ad for a barter shop, you could use an image of a barber styling someone's hair who has a smile on their face.

Authentic photos are great to use and will best represent your client's business. Look for photos on the business's website, social media pages, or snap a few yourself the next time you are in the area. If you are looking for a specific image or graphic, stock photos are a good option. There are a number of sites that allow you to purchase stock images such as Adobe Stock and iStock. You can also check out Pixabay and Unsplash which allow you to download images for free.

Whichever you choose, make sure to select an image that properly showcases your client's business. And make sure that you include the business's logo somewhere on the ad. 
4. Image Quality is Key
Like anything else, the quality of a banner ad is crucial to its success. No matter the size of the ad, it's important to choose images that are high quality. Graphics and photos within a banner ad should be aesthetically pleasing and easy to view. Remember your goal is to entice the viewer to click on the ad.

Low resolution images can appear pixelated and distort the overall look of the advertisement. This could impact the way consumers perceive the business and deter them from taking time to view the banner ad. 
5. Keep Text Short and Sweet
Keep it simple and be direct with the text you display in your banner ad. People are busy, and they don't have time to read through a wall of text to figure out what you want them to do.

They'll be more likely to linger on your banner ad if you haven't overwhelmed them with too much messaging. Avoid using jargon or industry terms in your advertisement.

If you've chosen an amazing image, you don't need to worry about writing too much. The less work your viewer has to do, the better. Don't overwhelm them with superfluous details that aren't relevant to what you're selling or the action you want them to take. 
6. Construct a Compelling Call to Action
Writing a copy for a call to action (CTA) is another vital element of the design process. Include specific language that encourages people to take the next step. If you don't, then they likely won't know what you want them to do — and they certainly won't do it!

To be sure the language in your CTA is clear and concise, here are some tips:

1. Make sure that your language is easy to understand. Instructions should be easy to follow.

2. Be clear about what will happen next if the user clicks. When you say "view our menu," make it clear that they will be brought to a landing that contains a menu of the business's products or services. Viewers may be hesitant to click if they aren't properly informed about what will happen when they click.

3. Use strong verbs, like "Get" or "Start." These words communicate the action in a way that is easy to understand. Direct commands work better than polite requests for CTAs. For example, you could have a button on the banner ad that says, "Get started today!"

As another idea, you can try using specific times and dates in your call to action that prompt a quicker response. For instance, if the banner ad is promoting a special offer, include the date that the offer expires. When you use direct language, consumers can better understand what you want them to do. Direct instructions increase the likelihood that the user will respond and click.
Banner Ad Design Made Simple
Let's review! Banner ads are a proven method and impactful tool to help promote a business. A banner ad with a robust and appealing design enhances your chance of getting users to click. To design an effective banner ad, start by getting clear on the purpose of the advertisement. Make sure to use relevant imagery and keep the message short and sweet. Don't forget to include a call to action, so people know what to do next!

With Ideal Directories, you can make banner ads to sell and post on your directory site. Ready to launch your directory and start reaping the rewards of hosting banner ads? Click here to start making money today.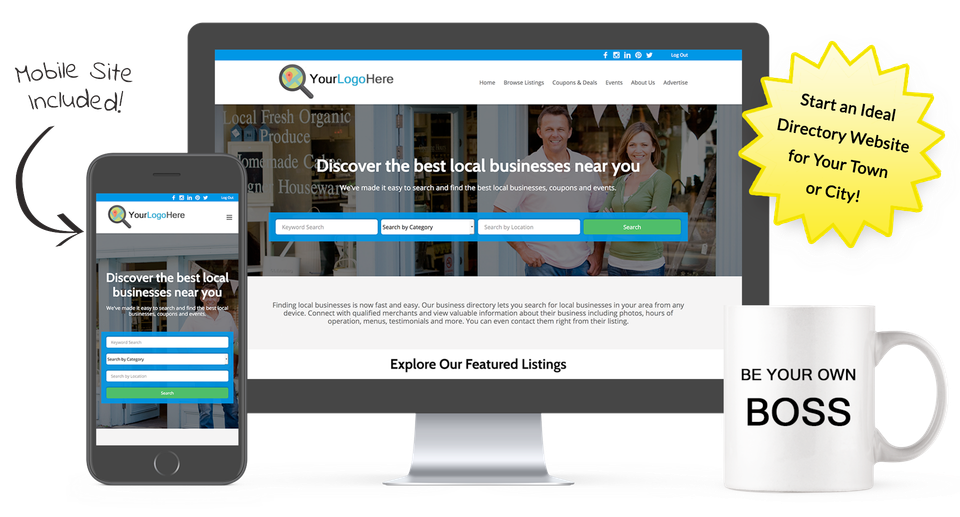 Start a Directory Website for Your Town or City with Ideal Directories!
Make money promoting local businesses, coupons & events in your area.