Why an Online Directory Website is a Great Business to Start in 2022
Published on January 4, 2022
As we move ever forward into a digital age, online businesses are becoming more and more popular. From the potential revenue to the flexibility, the expansiveness of the internet allows for online businesses to be successful. One such online business endeavor for 2022 is an online business directory website.

Starting a successful business online has become a viable prospect for people all around the world as a way to escape the drudgery of a 9-to-5 job, and also as the way to secure your future. Some countries saw unemployment rates at their highest during 2021. Starting your own business can be a great way to take control of your own future instead of leaving your fate in the hands of an employer.

Not only is the online space becoming a hotbed of new business opportunities, but it's also the best spot to find businesses. That's where an online business directory comes in, and why it is such a lucrative industry.

Let's have a look at all the reasons you should start a business directory website, and what you can gain from it.
Be Your Own Boss
One of the biggest perks of starting an online business in 2022 is being in control of your future. You are the master of your destiny. That's an appealing prospect, especially after the pandemic-induced turbulence of the 2020 and 2021 job markets.

You don't need to worry about being micromanaged by a boss or a management hierarchy since you'll be the one in charge. All of the decisions will be yours to make, and you'll be free to implement whatever ideas you have.

Being your own boss isn't a perk that is exclusive to business decisions, either. It gives you comprehensive creative control to create whatever vision you have for your directory.

Everybody has had a job where they have felt hamstrung by a superior, even when they feel as if they had a great idea. Worries like that will be a thing of the past if you start your own local directory website business. Have a specific strategy or plan that you think will work? Well, you're the boss!
Work Anywhere You Want
The second selling point is exclusive to starting an online business directory website. Your place of employment will be wherever you want it to be. This is a luxury that can not be stressed enough.

If you want to work from home, you can. If you want to take a trip to your favorite coffee shop and work from there, you can!

Taking advantage of the fact that an online directory only occupies digital space means you are free to work from wherever you want. Essentially, wherever you go that you have an internet connection is also a place that you can work.

This can be especially appealing if you're somebody that likes to travel. Imagine being able to go abroad, or on holiday, and knowing that you are still generating revenue. It's that kind of freedom that you can't find anywhere else.
Make Your Own Schedule
This next facet of starting an online business binds the previous two points together. Since you are the boss and you can work anywhere you want, you can also decide when to work.

Not all online businesses necessarily allow such freedom over your time. Some require you to invest an enormous chunk of your time per day. Others have strict schedules that must be adhered to in order to take advantage of specific time zones and the typical 9 to 5 business hours.

Starting an online directory has no such issue. As long as you regularly maintain the site and are tentative to your customers' needs, it doesn't matter when you work. The work itself shouldn't be too overwhelming either, especially if you use a platform like Ideal Directories to help you build and manage the directory.

It's a perfect marriage of accessibility and flexibility. You'll get to pick how much time you want to spend and when you want to spend it. Even once the ball of popularity gets rolling, you'll still find managing a directory to be very forgiving to your time.
A Low Risk Venture
Perhaps one of the most appealing aspects of starting a directory website is the minimized risk. You don't need to put down large amounts of capital, you don't need to remortgage the house, and you can keep your daytime job to save money that you can invest in building your directory website business. With a small initial investment, you can have a site up and running in as little as a few hours.

Out of all the online business ideas, it's one of the most inexpensive.

There will be no production or material requirements, and very little maintenance costs. Not only does that make a directory website low risk, but it also makes it low cost. It's the perfect arena for the budding entrepreneur to safely dip their toe into.

There are a myriad of resources, tools, and other services that Ideal Directories offers to help you construct a directory and market your business. All of this combined should really blunt any concern about the risks or difficulties of starting a directory.

Just have a look at how simple it can be to start an online directory website powered by Ideal Directories within a few easy clicks.
​​
Thanks to Ideal Directories, it doesn't have to be a struggle to figure out how to make money with an online directory website!
Become a Resource for the Community
From offering a network of businesses that cultivates B2B opportunities, to putting consumers in touch with relevant businesses in their area, a directory is an incredibly useful thing to have.

In the most traditional sense of the word, you could be creating a space for businesses in your local area. An online business directory can position itself as a node of resources for a specific area.

In a broader sense, a business directory can also cater to communities surrounding a niche. Certain markets, industries, and interests don't always have a place where they can find like-minded businesses and individuals.

If you create a business directory website for your local area or a specific niche, you'll be ticking one of the most important boxes for any new business. That box is the provision of a service or product that people need, but don't have.

Creating a network of B2B opportunities like this isn't just about the business, it has the potential to be so much more. Your business directory can help to connect people and businesses in your community and encourage consumers to shop local for products and/or services. This type of connectivity facilitated by a business directory website can have a huge impact on the local economy.
Help Small Businesses Grow
If you like the idea of raising up those around you as you ascend, then a business directory is the one for you. As your directory grows in popularity, so will the traffic and exposure that you provide for smaller businesses.

If the focus of your directory is an area local to you, you'll be shining a much-needed spotlight on smaller businesses in your area. A lot of those businesses may not have had the time or know-how to cast a wider marketing net.

A small or local business that pays for a listing on your directory could reach audiences that they would otherwise never manage. It can also connect consumers to businesses that they may have never known but because of your business directory they do.
Make Serious Money 
Now for the juicy part: the potential earnings. The name of the game with a business directory is scalability. The snowball effect is in full force here, and the more listings and ads you sell on your directory website, the more profit can be collected.

The main source of your income on a directory will be from businesses paying you for a listing. The higher the traffic, the higher the premium for a listing.

With that being said, though, you don't need traffic to start making money and there's still potential for some respectable earnings in the early days of your directory.

Even at ridiculously modest fees, if you can amass a few businesses to list on your directory, you'll be turning a nice profit. Charge an average of $50 to $100 a month per listing to 20 different businesses and you've got a nice stream of revenue coming your way.

For the very modest amount of work you'll need to do, that's not too bad!

If you're boasting a significant amount of traffic running through your directory, then you've also got some other lucrative options, like advertising, for example.

Selling banner advertisements on your directory website can be another great way to supplement your revenue.
Get Your Directory Business Started Today! 
So there you have it. The top reasons why an online directory website business is a great business to start in 2022. If this sounds like a good opportunity for you, there is no reason to reinvent the wheel here. With an easy-to-use interface, Ideal Directories can get your directory website up and running in less than 24 hours. You don't need any experience.

Don't let another year (or day) pass you by. Take the first step towards a successful 2022 and launch your own directory website business with Ideal Directories today.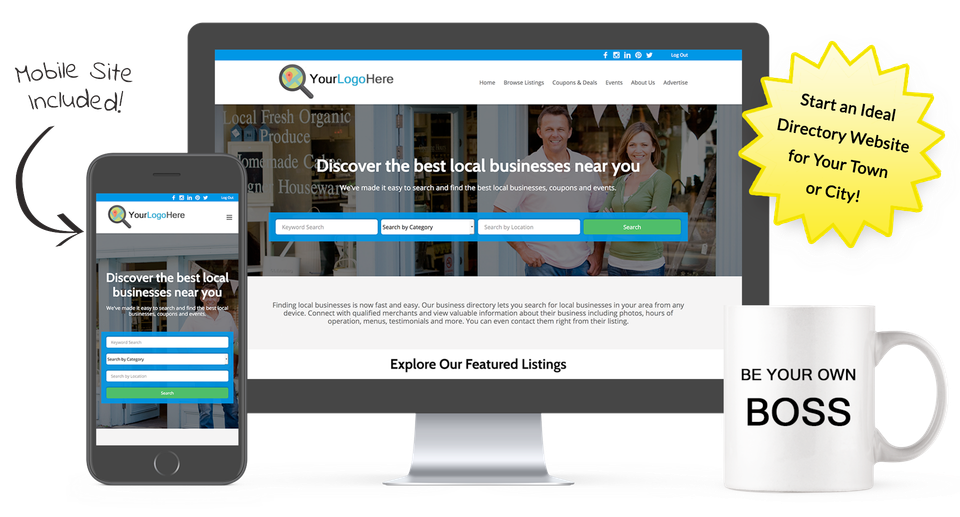 Start a Directory Website for Your Town or City with Ideal Directories!
Make money promoting local businesses, coupons & events in your area.