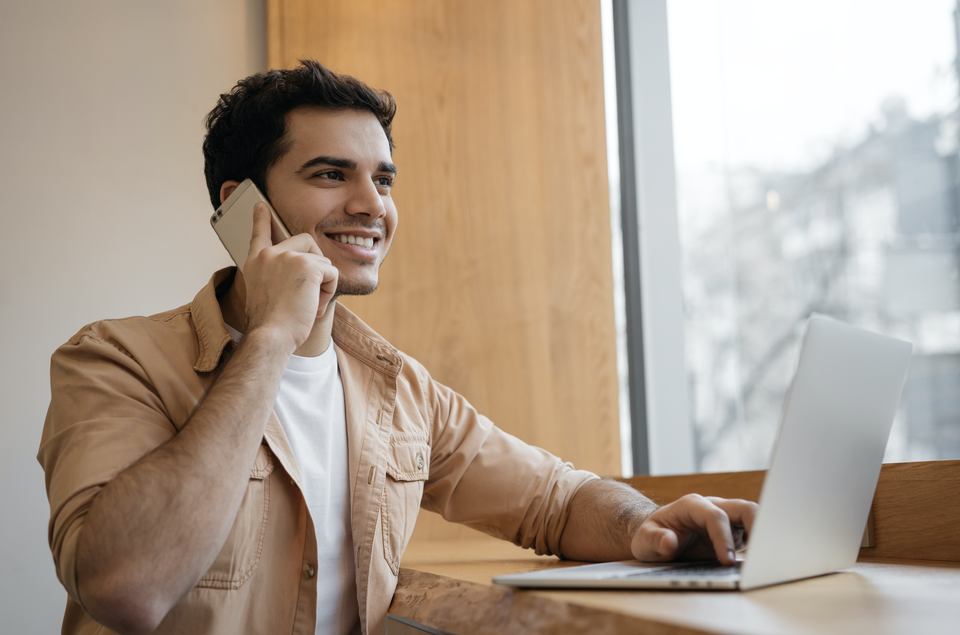 11 Reasons to Start Your Own Directory Website Business
Published on January 31, 2022
One of the biggest changes in online searching in the last few years has been the switch to local searches. People want results quickly and solutions easily accessible within their immediate vicinity, not from halfway across the world. So how can you benefit from this?

The best way is to start an online directory business and enjoy the many benefits it brings. Read on to learn why a website directory business is the best business to start. 
1. Control Your Own Destiny
Most people start a business for freedom. When you start your own venture, you get to be your own boss and you can call the shots. You don't have to answer to anyone and you have the freedom to manage, work, and grow your business the way you want.

Starting a website directory is one of the best ways to do this. When building an online directory business, you can choose when you want to work and aren't held to set operating hours. Let's say you need to make updates to your directory website...this can be done at your own leisure and at any time, such as on weekends or in the middle of the night. 
2. Enjoy a Better Work-Life Balance
If the global COVID-19 pandemic gave us anything positive, it was that it provided a readjustment of the work-life balance. Having people work remotely taught us how human beings need to see friends, family and enjoy their own time. No one wants to be in a cramped office, or spend valuable hours of their day commuting when they could be spending their time in a more productive way.

When you start a directory business, you can choose how and when you want to work. If you are a night owl, work into the late hours. Maybe you choose to start your day as the sun is rising; that is your choice.

One major benefit is that you can work from just about anywhere. As long as you have a laptop, a cell phone, and an internet connection, you can be online and get to work. From your favorite cafe or even laid out on the beach, the management of your work schedule is in your hands.

When the time comes to help family and friends, you can be there. You don't need to request time off if you want to attend family functions, or if you're feeling under the weather. You choose the times you want to work and can catch up on the hours missed later. For more tips on managing a work-life balance for a home-based business, check out our recent article on this topic. 
3. Work From Home
There are a lot of benefits attached to working from home. First, you can save money on your household bills. All of your meals can be cooked at home so you don't have to buy office lunches or grab breakfast on the go.

Driving to a physical location also becomes a thing of the past. This saves money on gas and also keeps maintenance down for your vehicle. Even if you previously used public transportation to get to work, you won't be paying for passes and tickets.

Rather than the daily commute to work, you can choose to utilize your time more efficiently and the money you save can be put towards growing your business. Check out our article that outlines more advantages of running a home-based business. 
4. Gain Financial Independence
When you work for someone else, your income is dictated by your salary. Should you want to earn more, you either have to apply for a higher position or hope overtime is available. Once more, these all cut into your work-life balance and financial goals.

With a website directory business, you can choose to start as a side hustle or make it your full-time career. You can scale at your own pace and invest as much or as little as you have available. Starting an online directory is very affordable and allows you as the owner to keep 100% of the profits. 
5. Generate Passive Recurring Revenue
You can earn some serious money by running your own website directory business. This is a recurring revenue stream, meaning as long as you maintain it, the profit will keep rolling in. It is also passive income, so even when you are not working it still brings in revenue.

With a directory website, there is plenty of room for growth and expansion. Put time into marketing your business or reach out to advertising partners. The ability to increase revenue through added promotional tactics is very feasible. 
6. Take Pride in What You Do
When you work for someone else, you are contributing to their dream. You follow their long-term business goals and put your time and energy into their business. Aside from a paycheck, you get very little benefit from all the time and effort you put into working for someone else.

Building and growing your own business is something you can be proud of. You can set your own goals and build a business from the ground up on your own terms. This will give you a sense of accomplishment and achievement that you won't find in a regular 9-to-5 occupation.
7. Serve Your Community 
As the owner of a local website directory, you become a resource for the community. This can help small businesses grow and in turn, the local economy. You can give them more exposure and provide an easier way for consumers to find them online. Your website will become a pillar for the local community.

All of this will help you grow your network within the local business community. Should you ever need assistance, you can call on favors or even work out a barter system with other business owners who want to be listed on your site. 
8. Inspire Others
When you start your own business, you'll be identified as a leader and role model. Others will see that owning your business can be done easily and they will admire your entrepreneurial spirit.

Be it family, friends, or colleagues, you can help others who are considering starting their own company. You can become a resource of information and share your personal experiences with others. They will be inspired by your drive as a business owner and ability to operate your own business.
9. Take Advantage of Tax Benefits
With your own business, there are a number of tax deductions and write-offs you can take advantage of. Some benefits include claiming supplies to run your business, educational resources, subscriptions, utilities, and technical equipment such as your computer or internet.

Depending on how you structure your business and how quickly you want to grow, there are also many other options available. Small business loans are an option if you want to get capital and expand. A wealth of training and resources also become available at the national and state levels. 
10. Basic Skills Required
If you have basic computer skills and enjoy speaking with people, then you already have the fundamentals needed to run your own directory website. When you start a website directory with Ideal Directories, we provide you with all the marketing materials, sales, scripting, website, and other resources you need to launch and maintain your business.

Once you open, your learning curve will be short. You'll be able to learn the various aspects of business ownership rather than doing the mundane tasks of a typical job. Before you know it you'll quickly become knowledgeable in everything from finance to marketing and sales.

Furthermore, just because you are operating behind a computer screen does not mean you don't need customer service and interpersonal skills. As a local directory owner, these are more important than anything. You get to explore your creativity and watch as you build a business from the very beginning.
11. Establish True Job Security
Working for someone else doesn't always guarantee job security. You never know when you could be just one bad business month away from being laid off. At worst, an automated process may be waiting around the corner to take your livelihood.

When you launch your own website, you never have to fear being fired or let go. The internet is not going anywhere so there will always be a need for your services and website directory to promote local small businesses.

Even if you start the website alongside your main job, it offers peace of mind. Should anything ever go wrong, you will always have a backup plan. You can dedicate more or all of your attention to your directory website business and work on scaling to bring the income you need. 
Start Your Online Directory Business
The benefits are clear, the time is right, and the opportunity is huge. Step into the light, take control of your future, and launch a business directory website for your town or city.

Ready to get started? Ideal Directories is here to help. We can provide everything you need to get your new online business off the ground. Contact us and launch your business today!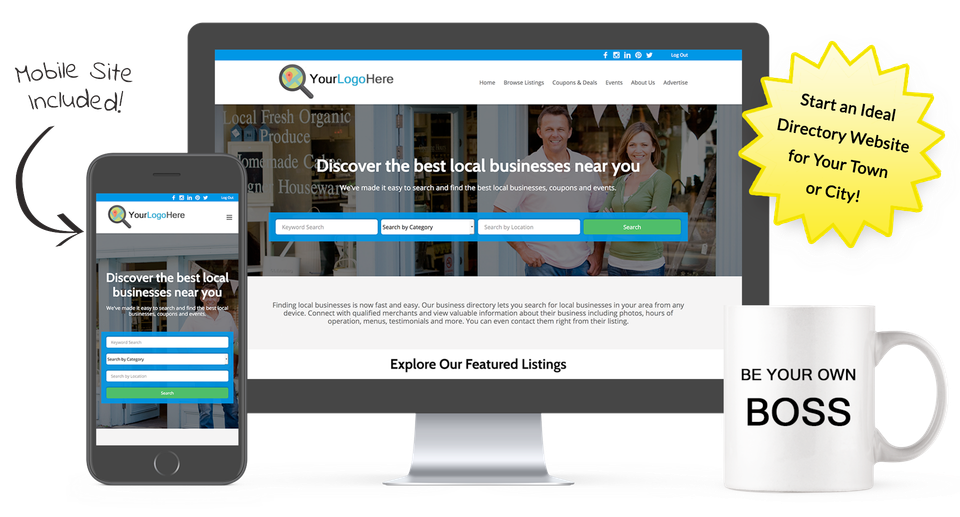 Start a Directory Website for Your Town or City with Ideal Directories!
Make money promoting local businesses, coupons & events in your area.