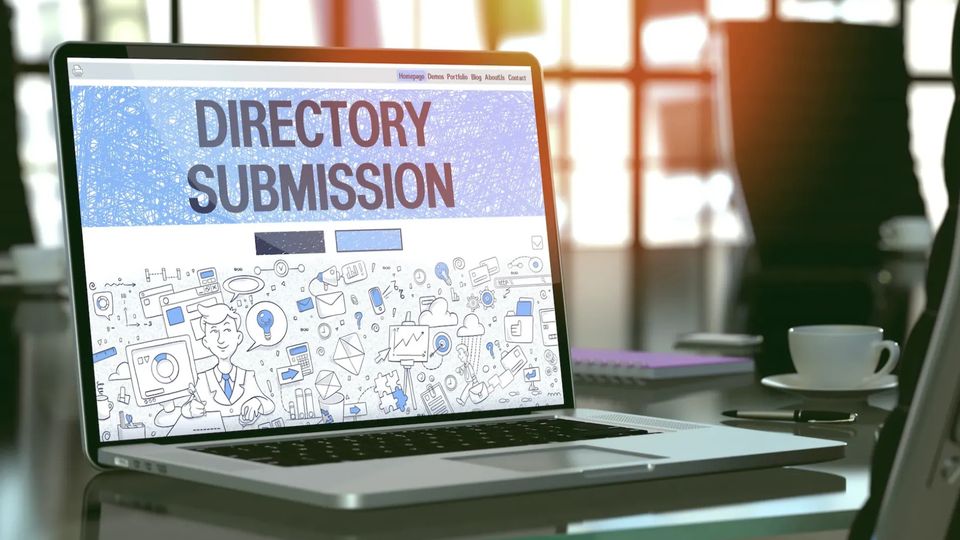 Why Small Businesses Should Advertise on Directory Websites
Published on January 24, 2022. Updated on April 17, 2023.
Finding customers is the number one challenge that small business owners face. The main reason? Small businesses often have an ineffective or nonexistent online presence.

There are a lot of online advertising methods out there. You can use social media, email marketing, and Google ads to name a few. But if you're on a small budget, these ideas might be out of your reach.

One of the easiest and most cost-effective ways to grow your web presence is to advertise on a directory website. These websites collect local business information and list it in an easy-to-search way.

In this article we'll talk about all the different ways directory websites can help your small business grow!
What Directory Websites Can Do for Your Business
If you've never considered a directory website, you might not be aware of the benefits. Think about your thought process when you need to find a local product or service as a consumer.

First, you probably head to your favorite search engine such as Google, and begin searching for a particular product, service or business. You might even localize your search by including your city or "near me" in the search box. This is where directory websites are extremely helpful.

When you search for local products and services, you'll likely get a local business directory website as one of the top links. This includes both national sites as well as local community websites. There, you can view a business listing which often includes the business hours, location, company information, photos and reviews. From there, the customer can visit the businesses' website to learn more, get directions, call them or reach out directly for more information.

Directory websites are essential for connecting local businesses with local customers making them a vital part of any business's marketing efforts.

Here are 7 reasons why small businesses should advertise on directory websites.
1. Help Customers Find You
One of the biggest mistakes new business owners make is not making their information accessible online! It doesn't even necessarily have to mean building a whole website.

Listing your business on a business directory gives customers immediate access to your information. How do you expect anyone to find you if they don't know who or where you are?

When you're filling out your listing application, be sure to include the following information:
Business address

Business logo

Photos

Contact information

Map with directions

Website address

Social media links

Hours of operation

Company description

List of products or services offered

Accepted payment options
You wouldn't believe how many business listings are missing this essential information! Let's imagine a potential customer is searching for a 24-hour pet shop. They find you in the directory, but you don't have your hours listed. They'll likely skip right over you!
2. Cost-Effectively Promote Your Business
Did you know that the average small business spends close to $10,000 per month to advertise on Google? If you're just starting, that's going to be a hefty chunk of your budget. At the same time, online advertising is essential to your success.

The solution? Listing your business on a local online directory website! Most directory websites charge anywhere between $20 - $100 per month for a basic listing. Even if a business owner paid $100 a month for a listing, they would still save $8,800 a year!

Not only are online directories a cheap way to advertise, but they're also very effective. If you're a local business trying to attract local customers, a directory website is the way to go.

Let's say you're an independent accountant based in Aurora, New York. You can promote your business on local directory websites that serve the area. Whenever anyone in Aurora searches for "accountant near me," you're likely to pop up!

Studies show that "near me" searches on Google have increased up to 500% in the past few years! People are moving more towards buying local products and services, which is excellent news for directory sites and business owners alike!
3. Boost SEO
Search engine optimization (SEO) can be tough to understand, especially if you're not a techie. It's a system of improving web traffic to your site from search engines. SEO is essential because it targets unpaid visits.

That means bringing visitors to your website who haven't clicked on a direct link or ad. When you boost your SEO, you essentially attract customers without paying for advertising. Better SEO means higher rankings on search engines, like Google. The higher you rank, the more likely your website will be seen first. For example, someone searches for "photographer near me," and your business is the first link that Google shows.

That's good! That means you've mastered the art of SEO. Surveys show that 60% of people are likely to click on the first three results in a search. At the same time, 90% of people click on the first link.

So, how can online business directories help you rank higher?

Let's say you're searching for a sushi place in your area. Your top two results are "Hitori Sushi, Aurora, NY" and "The 10 Best Sushi Bars in Aurora." Which one are you more likely to click?

Probably the second option, right? Clicking on the restaurant's website will give you the menu and location, but not much else. But clicking on the business directory site will give you access to reviews!

Also, because online directory websites tend to share many listings, they get a lot of traffic. More web traffic means more page visits and higher search rankings. So even if your business site doesn't get a lot of visits, the directory can help you out!
4. Build Your Reputation
Creating a solid reputation as a trustworthy company is crucial to surviving in today's competitive economy. People often rely on word-of-mouth reviews to achieve this. And it works, to a certain extent!

With our world becoming more digital, online reviews are highly valuable. Research shows that 93% of consumers use the web to search for local businesses, and 89% read reviews. If you build up an impressive collection of positive reviews, potential customers will trust you. This is especially true for younger consumers.

Many online business directories allow customers to leave reviews directly on your profile. So whenever someone does the "near me" search and sees your listing, they can instantly see reviews. The more listings you have showcasing positive reviews, the better it is for your business.
5. Share Incentives
With the Ideal Directories platform, website directory business owners can share advertiser incentives. Anytime you have coupons, specials, deals, or sales for your business, they can share that information. Budget-conscious customers and deal hunters might find you and can become returning customers.

For example, if you own a small retail shop and have a lot of old stock, you might want to get rid of it. Old stock depreciates quickly and takes up precious storage space. You can advertise a 25% off sale or offer coupons.

You'll be able to catch people's interest, especially from potential customers who've never heard of or visited your store. After all, everyone loves a good bargain!
6. Advertise Events
Another great benefit of advertising your small business on a local directory website is to highlight and invite people to events you're hosting. Events encourage foot traffic and motivate new customers to check out your business.

If you're starting a new cafe, you might want to have a grand opening event to welcome consumers. The directory website can advertise this for you! Locals will be naturally curious about you and will likely pay a visit.

Maybe a music venue is hosting a concert, a restaurant is offering a wine tasting, or a book store is hosting a book signing event for a popular author. These are all examples of how businesses can leverage a local directory website to promote their upcoming events.
7. Join a Community
When you use a directory website, you're joining a community of like-minded small business owners. They are locals, neighbors, and friends trying to make their dreams come true and share the goal of growing their business. This sense of community can feel uplifting and puts you alongside many of the other small businesses listed in a local website directory.

It can also help you network with potential clients and partners. Imagine you own a floral shop and advertise yourself on an online directory. Local wedding planners, party planners, and funeral homes might find your listing.

It can create long-term partnerships and build your group of repeat customers. A directory website is a valuable resource for every community because it supports the local economy. In fact, nearly 84% of shoppers recently said they would rather support a local business than a large corporation. Making business connections and getting your brand out there in the community are essential for growing your business.
Get Listed on Directory Websites Today!
Mom and pop shops often struggle with how to promote their small business and gain customers online. In general, online advertising can be expensive and time-consuming.

Online business directory websites on the other hand, are an inexpensive and easy-to-understand concept! Plus, they'll help you rank higher on local searches and build up your reputation. As a small business owner, you need to be listed on directory websites to improve your online presence!

If you have more questions about online business directories, we've got the answers! Check out some beautiful examples of real, live client websites built with Ideal Directories.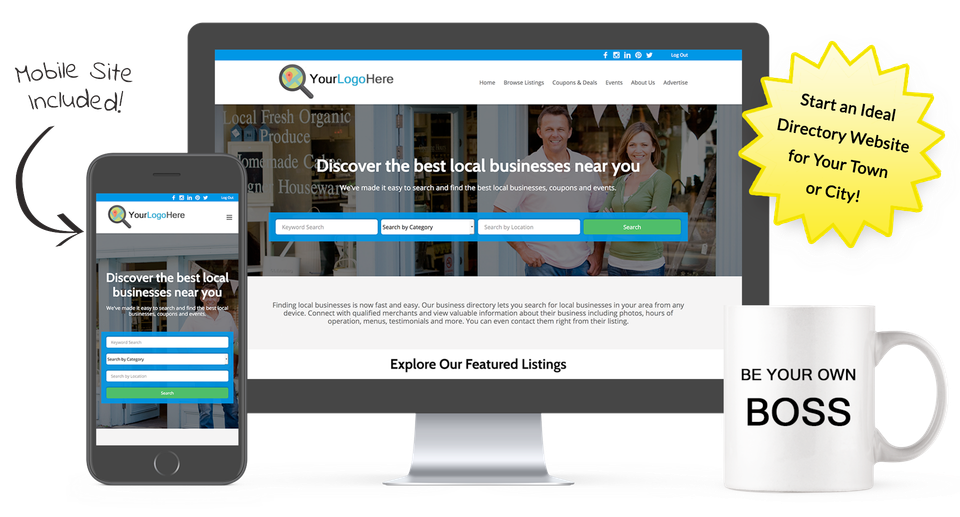 Start a Directory Website for Your Town or City with Ideal Directories!
Make money promoting local businesses, coupons & events in your area.