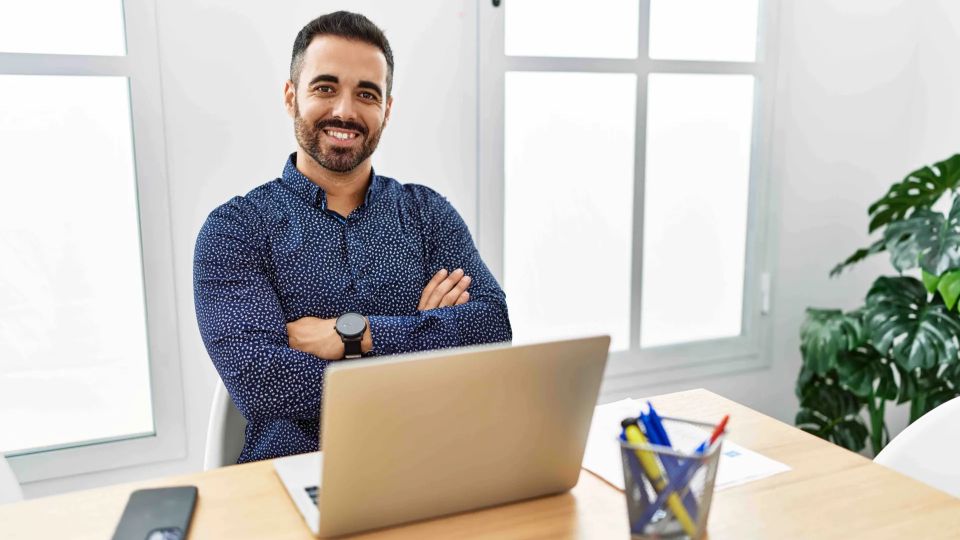 7 Ways to Exhibit Confidence as a New Business Owner
As a first-time entrepreneur and business owner, you may be filled with excitement as you begin your new endeavor. But, it's no secret that when starting your own business, you are often hit with feelings of doubt and uncertainty (and sometimes even fear). This can get in the way of how you want others to perceive you as a business owner.

Above anything else, to succeed as a business owner, you must believe in yourself and exhibit confidence. You can have all the capital, tools, support, and resources in the world but, if you don't believe in your ability to succeed, you could be easily swayed to give up, especially when things get tough. Confidence as a business owner comes from knowing yourself, your abilities, and being passionate about your business.

Displaying confidence is especially important when it comes to your clients, employees, and other people who will be involved in the growth of your business. To help you achieve this right from the start, here are seven ways to portray confidence as a new business owner at all times.

1. Dress the Part
2. Effectively Communicate
3. Network with Everyone
4. Be a Decision-Maker
5. Don't Sweat the Small Stuff
6. Be Goal-Oriented and Proud of Your Accomplishments
7. Stay Positive and Have Fun

Keep reading to learn more about how to exhibit these traits and implement them into your own business style. 
1. Dress the Part
Make sure you're not just dressing for work, but dressing to look and act like a leader. Don't underestimate how big of a role your outward appearance plays in how you feel on any given day. It might not be necessary to wear a suit and tie on a daily basis (unless you want to), but dress in ways that portray your professionalism, especially for face-to-face meetings with prospective clients.

When you become a business owner and start a directory website with Ideal Directories, one of the perks is that you can work from anywhere, which also means you can dress how you want. If you decide to make sales calls from the comfort of your couch while wearing your pajamas, you can. But when meeting with potential advertisers face to face, make sure you dress appropriately. Beyond the physical clothing and accessories you might wear, the way you carry yourself has a lot to do with how others can perceive you. Posture, standing tall, putting a smile on, making eye contact, and giving a good handshake contribute to your overall appearance. All these things will give off an air of confidence to people around you. 
2. Effectively Communicate 
As a new business owner, you will be constantly communicating with others. For this reason, you have to know how to talk with clients and employees to effectively communicate information about your services, thoughts, ideas, and vision for your business. Showing confidence in yourself and your brand will set you apart from other businesses that don't exhibit this in their products, services, or even their business culture. When customers see an owner who is proud of what they are offering and optimistic about future opportunities, it gives them faith, builds their trust and confidence in the longevity of your business.

Communicating with confidence is particularly crucial when dealing with prospective clients. You have a small window of opportunity to win them over and get them excited about the product or service you're offering. The best thing you can do is practice your pitch and be prepared. In the beginning you may feel most comfortable reading from a sales script or referencing your notes, and that's okay. As you progress you will fine tune your sales pitch so that you are speaking in a way that demonstrates your passion and knowledge about your business. 
3. Network with Everyone
Meeting people is part of business, and even more so when you're a solo entrepreneur. Networking with everyone from potential clients and vendors to industry experts and former co-workers will help your business grow exponentially. It's also an important part of being a confident business owner—if everyone knows you, they might be more likely to trust you, and ultimately do business with you. Being friendly and approachable is a great way to build relationships in your community. Networking allows you access to other business owners who are willing to share their advice and wisdom with you, as well as connect you with customers who might be interested in what you're selling.

Joining a Chamber of Commerce, being active in your local community, and attending business networking events are a great place to start because it forces you to meet new people in person, which helps you get out of your comfort zone, build social skills and become more familiar with different personality types. Social media is another great outlet to make business connections. You might be surprised at how quickly those relationships translate into new customers, job opportunities or other perks that help your business run smoother and make money faster. The best part! 
4. Be a Decision-Maker
By choosing to launch your own business, you've already shown confidence. Whether you're a solopreneur or the founder of a ten-person team, it takes guts to strike out on your own and make something happen. Research shows that people who are able to make decisions quickly tend to be viewed as more confident than those who stall out. So, as a business owner, you should strive for efficiency when it comes to decision-making: no room for hesitation.

To make an informed decision and feel confident in your choice, do your due diligence by conducting research and unveiling the facts. If you're ever stuck with a choice and don't know what direction is best, pretend you do know; oftentimes your gut instinct is correct and following through on that instinct is exactly what people look for in a leader. Then, in some cases, you might not have all of the facts at hand but take a gamble—people respect courage, they even prefer it over caution, most of the time. And if you guess wrong? Learn from your mistakes, be willing to change course if need be, and move on.
5. Don't Sweat the Small Stuff
How you handle the ups and downs you're faced with when running a business says a lot about your confidence. One of the most effective ways of being confident is learning not to sweat the small stuff. Remember that you're human, and humans make mistakes from time to time. The key is taking responsibility for your actions. If a mistake happens, don't beat yourself up over it; just fix it. Staying calm during a mistake makes it easier to find a solution; burning out from small stuff won't help anyone (and could cause more harm than good). At the end of the day, be confident in who you are as an entrepreneur; confidence doesn't come from being perfect all the time, but being able to recognize what's important. So, focus on progress, instead of perfection.

If a situation involves a client, do everything in your power to make it right. Listen to what they have to say and act accordingly. Offer an incentive, discount, or throw in something for free. Show that you care and appreciate their understanding and business. Although it may be hard at the moment, try to think about the big picture and how insignificant a problem or mistake may be. Take a deep breath to clear your head and refocus your attention on making it right. 
6. Be Goal-Oriented and Proud of Your Accomplishments
Your demeanor, actions, and even your words can all play a part in your ability to reach your goals. If you want to portray confidence as a business owner, find ways to define success for yourself and then pursue those targets with enthusiasm. Write your goals down, determine how you will reach each goal, set a timetable for achieving it and then focus on how to make that happen—one day at a time. It's true what they say: success begets further success! Your goals will continue to be a driving factor for you and show that you and your business are on an upward trajectory.

And, when you reach your goals or hit a milestone, celebrate! Be proud of your accomplishments and don't be afraid to share the news with your customers, clients, network, family and friends. Promote the information on your marketing website, social media, and/or in an email campaign. While it's impossible for you to control what others think of your business or your personal brand, one of the best ways you can increase perceived confidence is by spreading the word about your accomplishments.
7. Stay Positive and Have Fun 
If you're not having fun, why keep doing it? You need to be able to rely on running a business that makes you happy. After all, most people want to do what they love for a living. Staying positive and having fun are two big ways to show confidence in your business, which will help attract customers who want to work with someone who's upbeat and excited about their business. If you don't enjoy what you do, it will be hard to convince anyone else that they should give your business a chance.

The purpose of your business can have a huge impact on your overall outlook and positivity. When you start a directory website, you're creating a beneficial resource for the community as well as helping small businesses with their marketing needs so they can succeed. It's a rewarding career that can allow you to make a difference in the place you live. 
Final Thoughts
It's important to remember that confidence is a skill and one that can be developed over time. Everyone has off days, but you should still exhibit confidence as a business owner, even if you don't feel it. Put on your best face and make the most out of your work day. Having confidence about your business will put others at ease, making them more receptive to what you have to say and interested in doing business with you. Remember, at the end of the day, it's about building trust so people feel confident that working with YOU is the right decision.

If you're ready to start your own business, Ideal Directories provides you with the platform, support and resources you need to run your own business directory & coupon website for your town or city. To learn more and how to get started, watch our demo.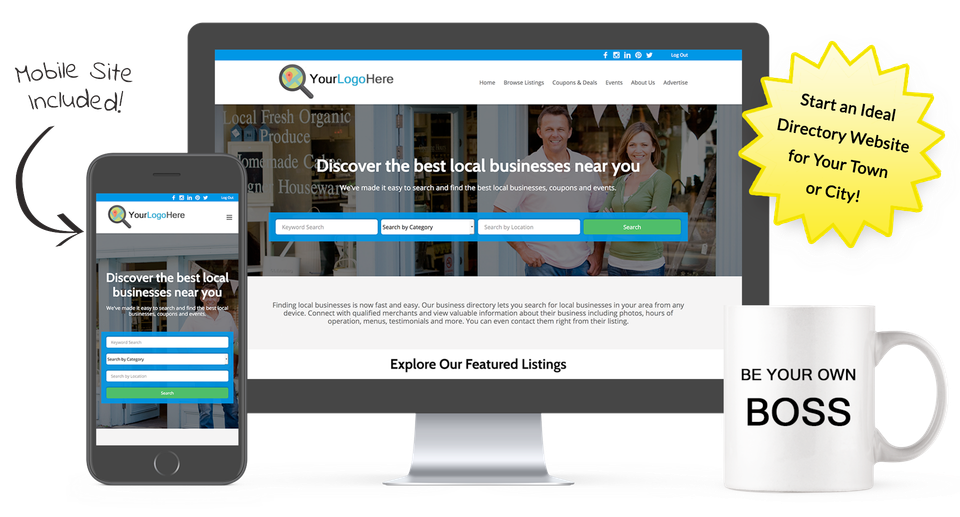 Start a Directory Website for Your Town or City with Ideal Directories!
Make money promoting local businesses, coupons & events in your area.