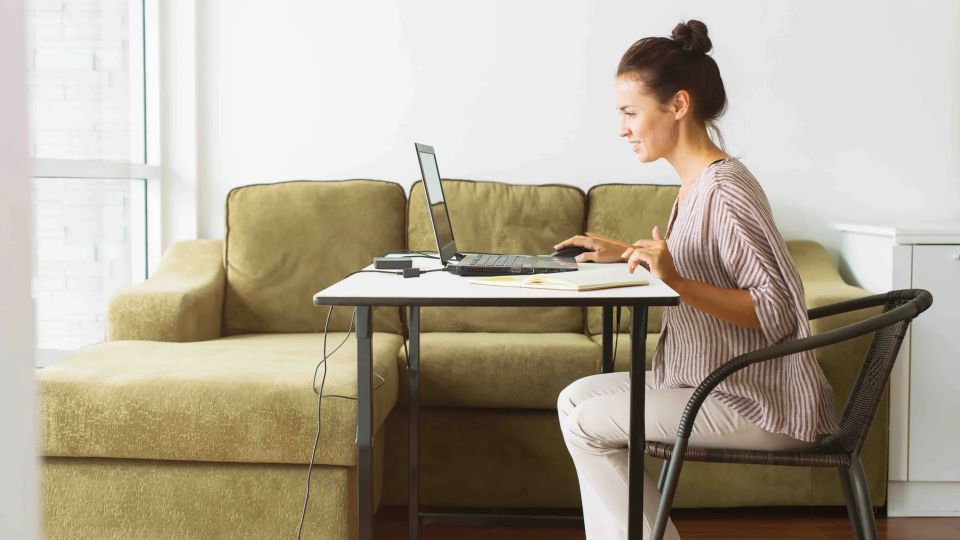 7 Tips for Starting a Home-Based Business
Published on July 11, 2022
Starting a home-based business is more common than you may think. Many Americans work out of their homes, using the Internet and a phone to conduct business with customers all over the world. In fact, there are more than 15 million home-based businesses in the United States. (source)

Working from home provides many benefits, including the potential to earn more money and set your own hours. Running your own home-based business can also be challenging, especially when you juggle it alongside your personal life and other obligations. To operate a home-based business effectively requires careful planning, developing the necessary skills, and adhering to best practices.

When you start a home-based business, you want to establish how you are going to manage your business to ensure it runs smoothly and efficiently. This article outlines 7 tips that will allow you to enjoy the freedom of running your own home-based business while still staying on track with achieving your goals.
1. Do Your Research 
After you decide that you want to start a home-based business, you should understand what it takes to run one. There are many opportunities out there that allow you to work from home so you'll want to determine what type of business most excites you. Once you have an idea of a business to start, you'll have to do more granular research to learn about the type of prior experience needed, costs involved, flexibility, earning potential, training, equipment needed, etc. To really paint a picture of what it will be like to run a home-based business, you can read blogs and books on the topic, ask friends or family members who run a home-based business, and follow entrepreneurs on social media to learn from those who have been successful in launching their own business that they operate from home. 
2. Establish Your Goals
One of the most important steps in starting any business is setting goals. You need to decide what it is you're trying to accomplish and then develop ways to measure success. What are you looking to achieve? Are you hoping to make money, or do you simply want to fill your evenings with an enjoyable activity? Before jumping in, think through your aims so that they align with what will truly drive your desire and push you toward success. Then create both daily and long-term targets that will help keep everything on track. Make your goals SMART: Specific, Measurable, Attainable, Relevant and Timely. 
3. Create Systems and Stick to Them
Once you start your business, you should immediately create systems. When entrepreneurs go out on their own and start businesses, they often make simple mistakes due to poor planning. You're at home, and can do whatever you want, whenever you want. That's nice in theory, but if your business is to bring in an income — and not just an interesting hobby — you need to create systems to help you manage your home-based business. These systems might include time management, financial management and administrative tasks. By creating a systematic approach to how you run your business, you'll be more likely to stay organized so that you can focus more of your attention on things that allow you to build your customer base and generate revenue.
4. Establish a Positive Work Environment
A key factor to running a successful business is creating a positive work environment. To do so, you should set up an area in your house where you can conduct business with few distractions — and look out for other habits that can lead to a positive work environment, such as being mindful of personal noise (such as TV volume), checking email less frequently, avoiding too much clutter around your work space, and making sure that you maintain appropriate temperatures throughout your workspace. Creating a pleasant working environment not only helps increase productivity, but it can also make you happier. And if you're trying to attract clients or customers into your home office space, don't forget that it's important to keep their experience there positive as well!
5. Have Standards for Home and Work Life
If you want to run a successful home-based business, you have to create standards for what you want your home work-life to look like. Don't overwhelm yourself by trying to make them too complicated; here are some things that can help.
Try to avoid overlapping family and business life. Be present in the moment instead of dividing your attention constantly between business and personal activities.
Keep your workspace and personal space separate, so that you don't get distracted from what needs to be done at any given time.
Create a schedule that specifies when you plan to work on your business and stick to it.
Avoid responding to emails or answering calls after a certain time so it doesn't interfere with your personal time.
Creating a routine will help avoid getting burned out or becoming frazzled. It can be hard to separate work and family life, so it's crucial to set standards early on. If you want your kids and spouse to respect your time, respect theirs by setting boundaries as soon as possible. This may require taking shorter lunches and foregoing weekend projects — but in return, you'll have more time with your family during non-working hours. 
6. Start Small and Scale
Starting a business can be quite exciting and you might find yourself wanting to take your idea and run with it. But, before investing a lot of time and money into starting your own company, you may consider starting off part-time or on a smaller scale. Starting out with something you know is going to be profitable can help boost your confidence when getting started. For example, launching a business directory website for your town or city with Ideal Directories is a low-risk, low-cost business opportunity that allows you to run and scale your business at your own pace. You can set your own schedule, work when it's most convenient for you, and the earning potential is limitless. Remember: You don't have to start big in order to succeed big! 
7. Don't Let Fear Stop You
Fear can prohibit you from reaching your business potential. So, don't let it stop you. You'll never know what you're capable of unless you try. Running a business from home is just like any other type of business, you must market it and implement strategies to improve its reach and to drive customers towards your products or services. Whether an aspiring entrepreneur or already have some experience with entrepreneurship, the start-up processes can be challenging depending on the business you choose. If you take time to evaluate your options, plan ahead, and identify your goals, you'll feel more confident in starting and running your own home-based business. 
Get Started with Your Own Home-Based Business Directory Website Today!
There's no right way to start a home-based business, but you can follow these tips to figure out what will work for you. Once you've decided on the type of business, start establishing your goals and creating systems to help you stay organizing in achieving those goals. Although you're working from home, you'll want to establish a work-life balance so that you can continue to be productive in your business while also enjoying personal and family time.

Running a business directory and coupon website is a great home-based business option for many reasons. It's easy to set up, requires minimal upfront capital, and it has the potential to be incredibly lucrative. Get started with your own directory website site today. Watch our free demo to learn more.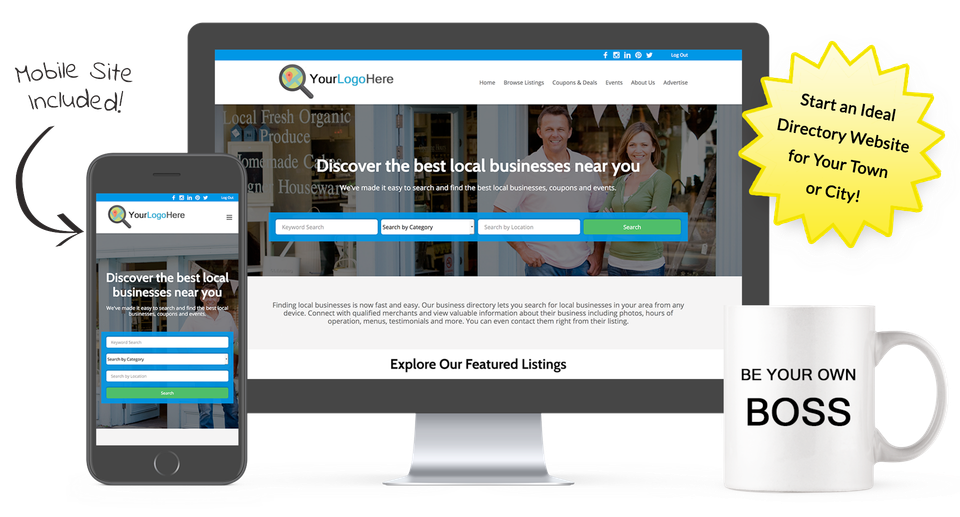 Start a Directory Website for Your Town or City with Ideal Directories!
Make money promoting local businesses, coupons & events in your area.