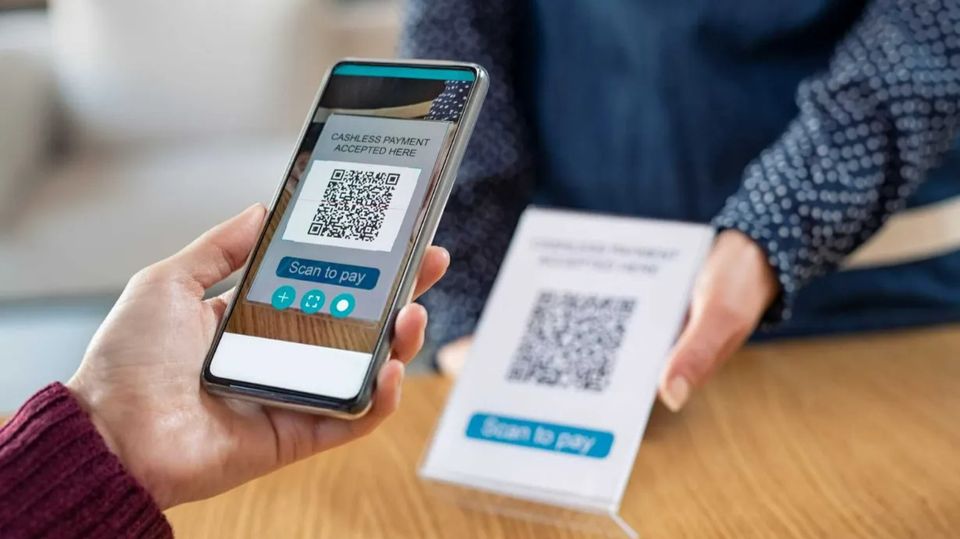 5 Creative Ways to Use QR Codes to Promote Your Directory Website
Published on March 6, 2023
In 2022, a staggering 83.4 million smartphone users utilized QR codes for various purposes, thanks to its invention in 1994 as a two-dimensional barcode for Kanban programs. The QR code gained widespread recognition in Japan in 2002, serving as an innovative marketing tool for smartphones with QR code reading capabilities.

QR codes have evolved from mere information storage to directing consumers to diverse websites, offering them access to exclusive deals and other content. As we move forward, it is estimated that the number of smartphone users scanning QR codes will surge to 99.5 million by 2025.

If you want to discover how QR codes can help you market your directory website and generate substantial traffic, then you're in luck. In this guide, we explain how to creatively market your directory website using QR technology. 
What Are QR Codes?
If you're not familiar with QR codes, let us explain them to you. QR stands for "quick response". It's a way to relay information in a two-dimensional barcode with small black pixel patterns.

You've probably been at a restaurant that had a funny-looking little box-shaped sticker on the table or the window. This square sticker is a QR code. A QR code often has a white background with an intricate pattern in the middle that looks like abstract art.

But QR codes actually contain a great deal of data inside of them. You can't read QR codes with the naked eye. For this, you need special QR technology found in special QR code scanners and through built-in software included on most modern smartphones.

When you scan a QR code with a scanner or smartphone, it can bring up a quick link that you can tap on. This link could take you to a business's website, where you can discover more information about a product. For restaurants, you can access their full menu digitally through your smartphone, removing the necessity of having physical paper menus.

Products at the grocery store and other merchandise also feature QR codes that give consumers important information on the items they purchase. Even artists and celebrities use QR codes to promote new music and other projects.

QR codes are also a great way for businesses to offer customers special coupons and discounts. An estimated 5.3 billion QR code coupons were redeemed in 2022 on smartphones.
How Do QR Codes Work?
QR codes rely on specially placed patterns of pixelated style black dots within a white background grid. QR codes are a form of binary code. Binary code is a sequence of 1's and 0's that computers and other technology use to communicate.

Every black square dot represents a one, while every blank white portion represents a zero. QR codes are made up of 4 distinct parts: data (black pixels), position markers, the quiet zone (white space), and optional logos in the center of the QR code.

Scanning QR codes with your smartphone will allow you to view the data contained in the code itself. Modern smartphones now have QR technology that can scan a decipher this complex pattern with ease. There are also third-party apps you can download that can help you scan QR codes.

For example, if a QR code has a website URL in its information, the URL will pop up on the screen. Tap on the link that appears from the QR code data, and you'll be taken directly to the website in your smartphone's default browser.

Newer forms of QR codes do not rely solely on a square pattern only anymore. They also don't require the standard black-and-white coloring. This allows a business to utilize different styles, shapes, and colors of QR codes as part of a marketing campaign for creative website marketing and advertising.
What Information Can QR Codes Contain?
QR codes are unique in that they can contain a wide variety of data within their coded structure. URLs to different types of websites are the most common type. Some businesses may use a QR code to offer customers the link to a sign-in page to easily connect to the WI-FI or simply view a menu.

But QR codes can also have portions of text like instructions for how to use a product or a business's backstory. Links to PDF files can offer a packet of information to QR code-scanning consumers. Music, video, and photo data can also exist in QR code form for consumers to interact with.

QR codes can also be used as a form of a digital business card. This comes in handy because it removes the hassle of losing it. It also saves on the cost associated with having to print multiple cards out.

Businesses can also apply QR code stickers to the front window of a storefront or the side of a food truck. This lets customers scan them to find out more contact information. They also facilitate ordering ahead of time to pick up at the location later on.
How Do You Create QR Codes?
It helps if you shorten your directory website's URL code first. Having a long URL will produce a large and junky-looking QR code pattern with too many pixels. Use a service like Bitly or Ow.ly to create a short-form website URL.

You can use the Google Chrome browser to create a QR code for your directory website with its built-in feature. Go to the "Share" arrow icon or under the three-dot menu and click on it to produce a new menu pop-up window. On the menu, you'll see the option to "Create QR Code", which will pop up another window when you select it with a QR code and the URL website link you can download.

On Twitter, tap or click on the three lines in the left-hand corner. A side menu will come out on the left side. At the bottom right center, you'll see a tiny QR code icon. Click or tap on it to produce a QR code for your Twitter account that others can use to follow you easily.
Creating QR Codes With Websites
Other ways for you to create QR codes rely on using third-party apps and free or paid membership websites. QRCode Monkey is a free online QR code generator that lets you create QR codes with URLs, as well as MP3, text, PDF, social media, Bitcoin, and many other forms. You can use custom colors, content, logos, or design styles.

QR Code Generator also lets you create custom QR codes with a free account signup. Like QRCode Monkey, it lets you create QR codes for Bitcoin, email, SMS, images, Facebook, Twitter, and more. Upload or drag and drop your files onto the web page to generate a custom QR code. The Pro version of QR Code Generator does everything the version does, but it also lets you make dynamic QR codes that are editable. Whereas the free version only provides static QR codes. The Pro version offers a 14-day free trial.

Beaconstac is another highly-rated QR code-creating site. It doesn't have a free version, but you can get a free trial. The lowest-priced plan is $15/month Lite for Businesses which gives you 1 user seat and the ability to create 50 dynamic QR codes.

With Beaconstac Lite you get GPS tracking and bulk creation features. You also have access to unlimited static QR codes. multiple download formats, templates, customizable forms, and customizable landing pages.

Scanova lets you share personalized multimedia content in QR form and share detailed contact information with Business Card QR codes. With Scanova you can create custom QR codes in under 2 minutes. It's not a free service, but it has a $15/month Lite subscription with no ads.
Why Are QR Codes a Beneficial Marketing Tool?
Using QR codes to market your directory website allows you to put all of your information into a convenient and expedient form of digital advertising. Anyone with a smartphone can scan the QR code. They'll be instantly sent to your directory website for a fast and easy streamlined process.

QR codes can help you generate traffic to your directory website. Include QR codes on your business cards and flyers. Market your directory website on social media as well. This is a great way to boost both your online and offline marketing campaign strategies as successful websites receive a lot of traffic and interest.

QR codes also provide the information efficiently. It puts your directory website information into the business owner's hands by utilizing the QR technology on their smartphone devices. This way, a business card can't be misplaced, and they will have the directory information on their phone for future reference.

Again, you do not have to stick to the traditional-style black-and-white square QR code format. You can create different colored and shaped QR codes to spark further interest in your directory website marketing with other potential businesses.
Use QR Codes to Market Your Directory Website
There are many creative ways that you can use QR codes to market a business directory website. Here are a few ideas:
1. Print QR codes on promotional materials
You can print QR codes on flyers, brochures, business cards, and other promotional materials that you distribute at events, trade shows, or through direct mail. When scanned, these QR codes can take users directly to your business directory website.
2. Use QR codes on social media
You can use QR codes on social media platforms like Facebook, Instagram, and Twitter to promote your business directory website. Simply create a QR code that links to your website and share it on your social media profiles.
3. Add QR codes to your email signature
If you send a lot of emails, consider adding a QR code to your email signature that links to your business directory website. This way, every time you send an email, you'll be promoting your website to the recipient.
4. Use QR codes in print advertising
If you advertise in local newspapers or magazines, consider including a QR code in your ad that takes users directly to your business directory website. Use QR codes on storefronts: If you have a physical storefront, you can use QR codes to promote your business directory website. Simply create a QR code that links to your website and display it in your storefront window or on your storefront sign. When scanned, this QR code will take users directly to your website.

Overall, the key is to get creative and think about how you can use QR codes in a way that will effectively promote your business directory website to your target audience.
Successfully Market Your Directory Website with QR Codes
Successful websites must be able to reach customers and businesses where they are. QR codes are one of the best ways to connect with potential leads. With improved QR technology, the use of QR codes for website marketing is becoming more popular each year.

Ideal Directories can help you launch and market your directory website with ease with our integrative software program. You can create a business directory and generate traffic to your directory website in no time at all.

Contact us today to request your free business directory website info pack and get started with your directory website.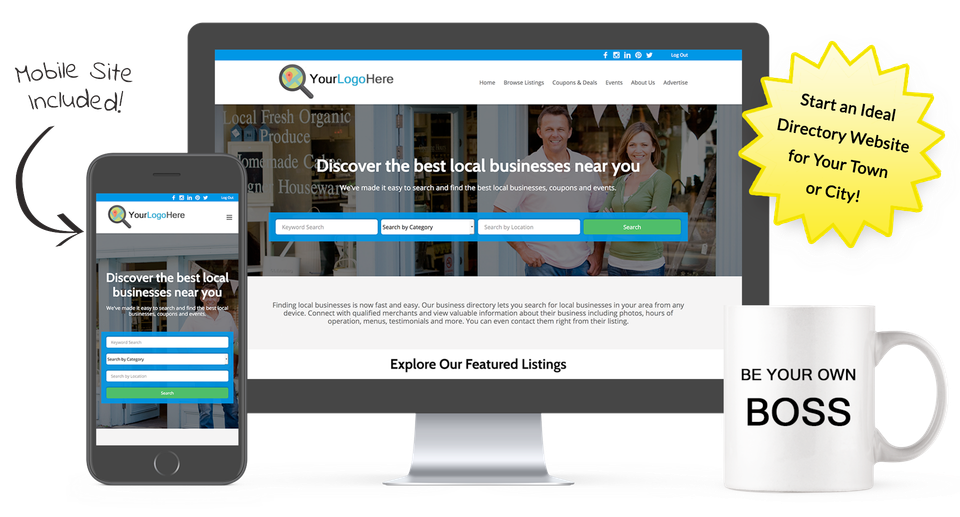 Start a Directory Website for Your Town or City!
Make money promoting local businesses, coupons & events in your area.