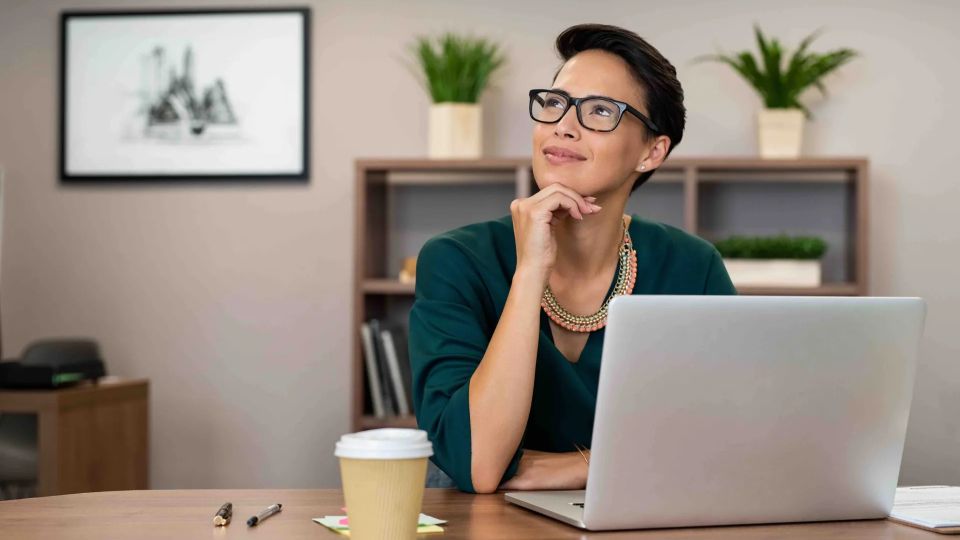 15 Directory Concepts That Can Work For Just About Any Market
Published on August 8, 2022
Business directory websites are an affordable and effective marketing tool that can help small businesses reach consumers online. Most directory websites cater to a specific city or town. Businesses listed within the directory are categorized by industry or some other method of grouping. However, directory websites can also be structured to focus on a specific niche, industry or other concept.

As more and more consumers continue to search for local products and services online, directory websites are becoming increasingly popular. In fact, 97% of people search for local businesses online and 46% of all searches include location (source). From these stats alone, you can see how important it is for small businesses to rank high for local searches. Having their business listed across multiple directory websites is one of the most effective ways to do so. This also creates a lucrative opportunity for savvy entrepreneurs.

Starting your own online business directory website can be a great way to generate passive income while working from home. Not only that, you're able to provide a valuable service to your community and local businesses. However, you can't be scared to think outside of the box. While a local-focused directory website is a great place to start, expanding your business by creating a network of niche directory websites can help you expand your reach, stand out from competitors and maximize (or better yet multiply) your earning potential.

If you're interested in starting a business directory website that caters to a specific industry or niche, here's some inspiration! In this article, we've outlined 15 unique directory website concepts that could work in just about any market.
1. Restaurant Directory
Restaurants are a popular type of small business that face a lot of local competition. Consumers are always looking for a new restaurant to try and they have plenty to choose from. For this reason, it's highly beneficial for restaurants to increase their online presence and rank for local SEO terms like "restaurants near me".

Starting a restaurant directory for your area is a great way to appeal to both restaurant owners and residents. It offers hyper-local marketing for an affordable price. You can categorize your restaurant listings by cuisine or even attributes like "family friendly", "outdoor seating", "free WiFi" or "delivery available".

Here's a tip: Looking for a clever, search optimized domain name for your restaurant directory? Keep it simple and focused on your area or even cuisine like "[City]Eats.com" or "Best[City]ThaiFood.com".
2. Home Services Directory
There are a number of different small businesses that can fit into a home services directory website. From roofing and fencing companies to plumbers and landscapers, any business that offers repairs or improvements to a home can be added into a home services directory. These businesses also rely heavily on their online presence and are willing to pay for listings on multiple directory websites because many of them don't have physical storefronts. Any additional exposure can benefit their business.

Home service directory websites have become increasingly popular over the last decade. Sites like Angies List (now "Angi"), Houzz and HomeAdvisor might be leading the pack, but there is plenty of opportunity for local or super focused directories to flourish. Think of concepts like "LandscapersNear[City].com", "Bestof[City]Contractors.com" or "[City]HomeServices.com" to help you stand out from the competition while optimizing your site for search.

Remember you don't need to sell a ton of listings to be successful. Unlike the large national websites who spend a ton on advertising and incur millions of dollars in costs, you only need to sell a handful of listings to turn a profit. Imagine selling listings to just 20 landscapers in your area for $50 per month. That's $1,000 in monthly revenue. Now imagine launching 10 of these local landscaping websites for a bunch of cities near you. Sell 20 listings on each site and that could be $10,000 in monthly recurring revenue.
3. Wedding Directory
Planning a wedding is an exciting time for couples, but it can also be stressful. With the various details and preferences that a bride and groom may have for their special day, there are a wide variety of vendors involved in a wedding. With so many to choose from, a wedding directory can be a great resource for brides, grooms, and their families to reference. In addition, many wedding vendors are home-based solo entrepreneurs such as make-up artists, photographers, DJs, hair stylists, and event planners. Being listed on multiple directory websites will increase their visibility and could improve their chances of being contacted and hired for the job.

Don't be scared off by larger sites like "Wedding Wire" or "The Knot". There are still plenty of opportunities for you to capitalize on your own wedding directory website. Keep it focused for your local area or niche like "[City]WeddingDirectory.com" or "[City]BudgetWeddings.com". 
4. Medical Directory
The medical field is a highly competitive industry. Doctors often rely on word of mouth and referrals to bring in new patients which can be limited. Beyond the big facilities like hospitals, medical physicians that open their own private practice and are in need of creative ways to promote and spread the word about their business. A directory website can be a great solution.

When launching a medical directory website for your area, you could categorize the businesses by their area of expertise such as physical therapists, chiropractors, podiatrists, and neurologists. Alternatively, you can launch a directory website that focuses exclusively on one practice type such as "BestChiropractors[State].com" and serve a broader area.
5. Nightlife Directory
Local consumers are always looking to find fun places in their area that offer a great night out on the town. Whether they're looking for a bar that has a band playing live music, a casino nearby, a nightclub for dancing, or even just a restaurant, a nightlife directory is a perfect way for businesses such as these to advertise. Why not launch a nightlife directory for your area?

You can categorize your site by venue type (Restaurant, Bar, Nightclub, etc.) or even features such as live music, drink specials, and dancing. Get creative with your directory name so it stands out and appeals to advertisers. You can call it something like "[City]Nightlife.com" or get super focused and name it "HappyHour[City].com".
6. Parent Directory
Parents are constantly looking for trusted local recommendations when it comes to their children, and a well populated online directory can help them find the types of businesses or services they are looking for. Within a Parent Directory, you can include just about any business that caters to children and/or families. Think of small boutiques, clothing and toy stores, outdoor/indoor play areas, pediatric doctors and dentists, and recreational activities for children.

When crafting a name for this directory, keep it simple and try to use keywords or a phrase that your target market may use in their online search. Consider domain names like "[City]ParentsGuide.com" or "[City]Parents.com".
7. Pet Services Directory
Depending on the type of service or products offered, pet-related businesses can operate in a physical location, traveling service, or virtually which makes this an ideal industry to create a directory website for. You could include veterinary offices, pet stores, pet groomers, pet trainers, dog walking services and many more. For groomers, dog walkers, and trainers in particular, who typically don't have a website dedicated to promoting their services, being listed in a directory specific to their industry can help get their brand in front of local consumers who are actively searching for businesses that offer their expertise.

Remember, you want to make it easy for local residents to find your directory during their online search so try something like "[City]PetServices.com" or "Happy[City]Pets.com" for your domain name.
8. Health & Wellness Directory
Health and wellness businesses are booming thanks to a continued emphasis on preventative care in our society. From spas and massage therapists, to fitness centers and gyms, directory websites are a great way for entrepreneurs and businesses to promote themselves in an industry-specific online resource. Health and wellness directories are an integral platform for connecting local consumers with businesses related to their needs in ways that general sites or yellow pages just can't match.

Similar to the way you might launch a Medical Directory, you can categorize the business listings by a specific expertise or service. If you want to focus your directory on businesses that can help someone get in shape, you can include pilates studios, dance studios, yoga studios, personal trainers, and gyms and call it "[City]StaysFit.com." On the other hand, if you want to create a comprehensive directory that offers both the work out aspect as well as other health benefit services, you can use a more general name like "[City]HealthandWellness.com".
9. Beauty Directory
The beauty sector is another highly profitable industry that continues to grow each year. Businesses in the beauty industry are constantly trying to keep up with new trends to please their current clientele while also appealing to new consumers. Businesses listed here can include barbers, plastic surgeons, tanning salons, aestheticians, hair salons, nail salons, skin care services, and much more. This list can also consist of businesses that provide products that relate to beauty and self care, including grooming tools and make-up.

While you can certainly use a name like "[City]BeautyCare.com" to target a predominantly female audience, you could broaden your reach by using a name like "LookYourBest[City].com" which could allow you to include a variety of businesses in your directory and appeal to more local consumers. 
10. Activities & Attractions Directory
Have you ever planned a trip or vacation to somewhere that you're visiting for the first time? Unless you used a travel agent chances are that you aren't too familiar with all the entertainment and tourist attractions in the area. This is where a directory website would be a perfect resource to reference. From bus tours and vineyards to landmarks and parks, any small business that can offer tourists a unique experience could be listed in this directory website. When launching an Activities and Attractions Directory, you may also want to be mindful to include businesses that are family-friendly as well as fun for adults of all ages.

For starters, you could focus your directory solely on a category like entertainment and include museums, amusement parks, performing arts theaters, bowling alleys, and festivals. You could try a name like "ExploreEnjoy[City].com", "[City]Entertainment.com" or "[City]FunGuide.com". 
11. Veteran-Owned Businesses 
As a way to support and thank them for their service to our country, consumers and companies alike may prefer to give their business to veterans to operate their own business. Plus, most businesses offer veterans or those active in the military special rates or discounts which might be another reason consumers search for veteran owned businesses in their area. However, locating businesses within this niche can be difficult, which is why a directory with these businesses listed can be so valuable.

With such a hyper focused concept for a directory, you can keep your categories more generalized (i.e. Restaurants, Handymen, Landscapers, etc.). But, when it comes to picking a name, make sure it's relevant specifically to the town or city you are targeting. So names like "[City]RunbyVets.com" or "VeteranOwnedin[City].com" would work.
12. Woman-Owned Businesses
Women owned companies are one of the biggest growing segments of businesses in America. According to American Express, since 2014 the number of women-owned businesses grew by 21% to nearly 13 million in 2019 (source). Many organizations and civic groups are playing an active role in helping this number grow through providing resources such as grants available to women starting a business. Additionally, more and more women and other consumers wish to actively support women in business and buy specifically from them. However, women-owned businesses can be difficult to find when simply searching on Google. For example, when you search for women-owned restaurants in New York City, Google returns a long list of results that don't necessarily fit that criteria. A directory is a great way for women-owned businesses to be found and featured online.

When selecting a name for your directory, you might consider something like "[City]WomenOwnedBusinesses.com" or "WomenOwned[City].com".
13. Minority-Owned Businesses
Creating a niche directory for minority-owned businesses is an excellent way to help them gain a strong presence in their community. Minorities often feel underserved by majority owned businesses. When consumers feel underrepresented, they search high and low to find businesses owned by people who truly understand their needs, and many would love an easy-to-browse business directory that lets them find businesses they'd like to do business with.

To help you get started, you can create a comprehensive list of businesses that provide specialized services or products that celebrate a certain culture or heritage. For example, think of restaurants that offer a certain cuisine or hair salons/barber shops that can work with different types and textures of hair. As you continue to market your directory and grow your professional network, you'll be able to identify tons of local businesses that are minority owned. If you pick a directory website domain name like "[City]MinorityOwnedBusinesses.com" or "MinorityOwned[City].com" you'll have a large market to sell to while also appealing to local consumers looking for businesses in this segment.  
14. LGBTQ Directory
For the LGBTQ community, a local business directory can be incredibly helpful, as it allows consumers to locate businesses that identify with individuals within this community. Many LGBTQ people may not be familiar with which businesses in their city or neighborhood that are LGBTQ-friendly or whether they offer services that are relevant to them.

A directory website tailored to this community is an excellent way for businesses and service providers to connect with prospective customers, as well as a tool for locals looking to meet others within this group and seeking information about businesses that cater to LGBTQ. When choosing a name, try something like "LGBTQ[City]Guide.com" or "[City]Pride.com" which can entice anyone who types LGBTQ in a Google search and sees it on their results page.   
15. "The Best Of" Directory
These days, with the never-ending task of ranking in local search results, businesses need every advantage they can get. "Best of" directory sites list top providers of goods and services based on their popularity in a given industry. You can collect listings from a variety of sources and combine them into one comprehensive listing featuring businesses in the area based on category or location.

In addition, using "Best of" wording, which is a common phrase consumers search to find things in their area, can help your directory rank better on search results. So for this reason, the best name to call your directory may very well be "Bestof[City].com".
Which Niche Will You Choose for Your Directory Website?
Businesses can benefit greatly from the power of local search marketing, and those that take advantage of this form of advertising have seen their businesses grow. Niche directories are one of the most effective ways for businesses to expand their local reach. This is especially important if a business is in a competitive market where it can be hard to stand out from competitors and quickly appeal to potential customers.

When you're ready to start your directory website, consider choosing a niche that interests you and can garner attention from the local community. Can't pick a favorite? Why not launch more than one?  To learn more about starting your own directory website with Ideal Directories, watch our free demo.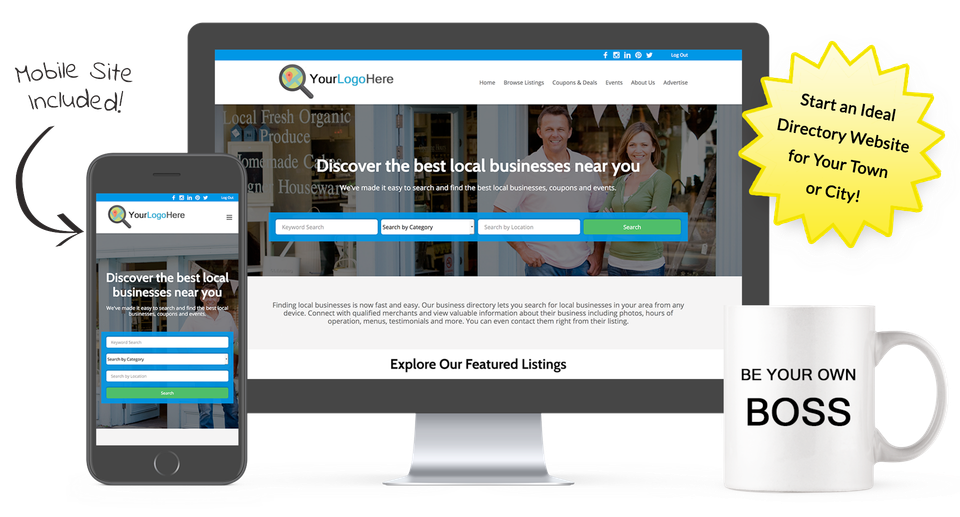 Start a Directory Website for Your Town or City with Ideal Directories!
Make money promoting local businesses, coupons & events in your area.