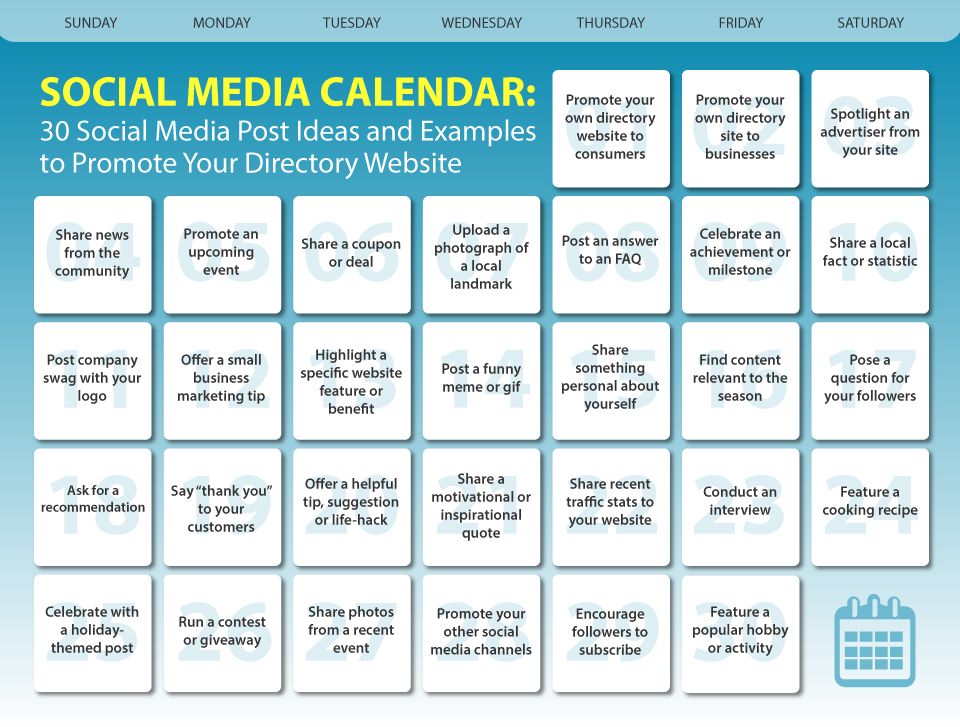 Social Media Calendar: 30 Social Media Post Ideas and Examples to Promote Your Directory Website
Published on October 24, 2022
Social media has transformed the way businesses market their products and services and how they interact with customers. Within the past several years social media has quickly become the marketing tool of choice for businesses of all sizes and types, and it's not hard to see why. There are more than 4.62 billion people on social media with nearly 3 billion active users on Facebook alone (source). So it's evident that to be successful today, a business needs to embrace and leverage the power of social media to help them grow and prosper.
When you run your own directory website, there are many benefits of utilizing social media in your marketing strategy. It can improve your website's visibility and rankings on search engines, drive relevant traffic to your site, and provide your users with more value than ever before through content that caters to their specific needs and interests. To stand out from the competition and really make sure your business directory website gets found, it's important to create and share engaging content that will entice people to follow your site's social media pages, which will lead them to explore your directory website and the services you offer.

With social media, the possibilities of what you can share and post are endless. However, sometimes figuring out exactly what to post can be challenging. Keep reading to discover 30 social media post ideas to help spark your creativity and keep your calendar full.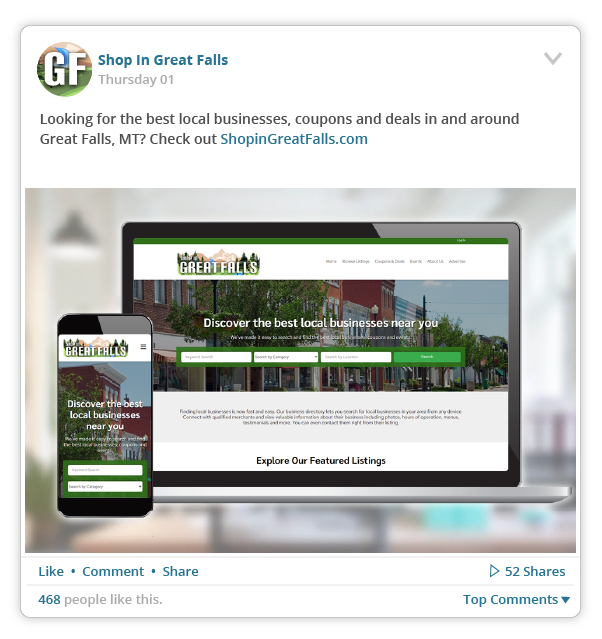 1. Promote your own directory website to consumers
What better way to spread the word about your directory website than for you to promote your own business? Post information about your business directory website and what you have to offer that will interest your target audience. For example, you can take a snapshot of your homepage, and write in the post, "Looking for local coupons and deals? Check out [DIRECTORY NAME]" and include the link to your website. You can also feature different pages of your site such as your Coupons & Deals and Events pages. Let visitors know what they might expect to see and learn when they come to your site.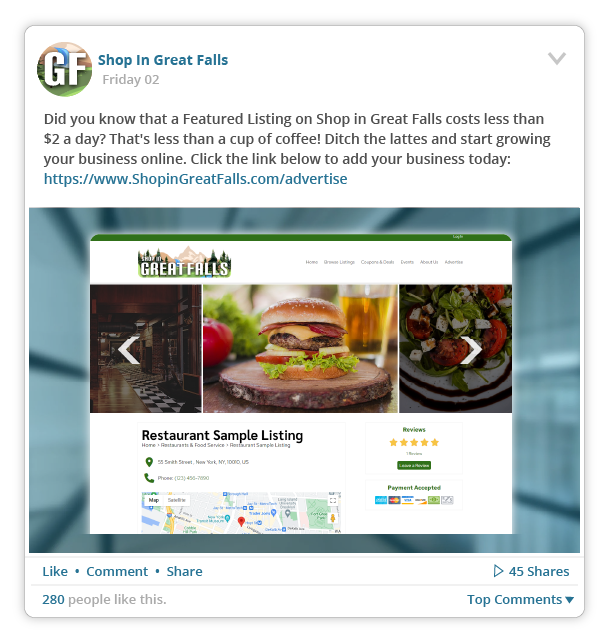 2. Promote your own directory site to businesses
Every now and then it's necessary to come right out and tell fellow business owners what makes your directory website such a smart advertising decision. Highlight all the different ways they can get exposure on your site, mention key features of a business directory profile page like Coupons, Events, Menus, Reviews, and more. Be sure to highlight snapshots of your Plans so they can see how affordable it is to advertise with you, and mention the opportunities they have to buy banner ads throughout your site. Don't be afraid to be direct – sometimes business owners need to be told exactly what you want them to do.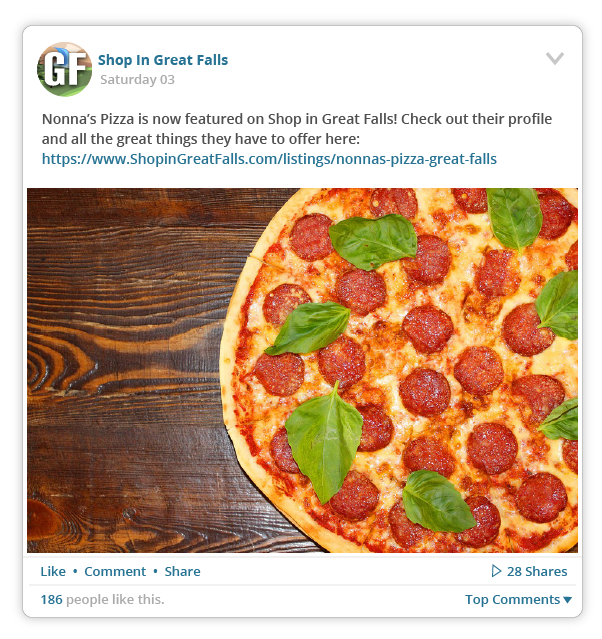 3. Spotlight an advertiser from your site
Randomly select one of the businesses that advertise on your site to highlight – feature one of their photos and link back to their listing on your site. For example, "Check out [BUSINESS NAME], featured on [DIRECTORY NAME]. Check out their profile and all the great things they have to offer here: [DIRECTORY URL]." Also, if an advertiser shares an intriguing photo, blog, or video on their social media page, consider re-sharing the post to your own page. It's a great way to spotlight the business, gives their post additional exposure and requires minimal work on your end. Be sure to post about every new business that gets added to your site to give them as much upfront exposure as possible!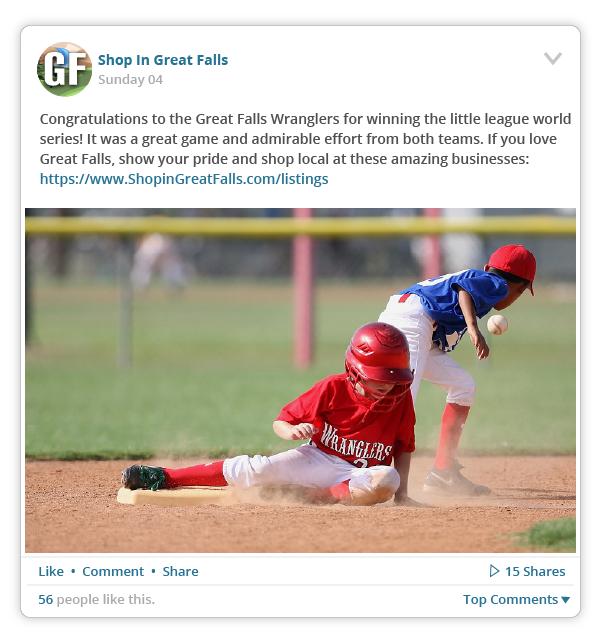 4. Share news from the community
Community news could encompass just about anything that is relevant to the town or city that your directory website serves. This can include updates about the local economy, education, sports, grand openings, anniversaries, congratulatory announcements or anything else newsworthy. Consider linking up with a local newspaper and make an arrangement to share their content on your social media in exchange for exposure on their page. You might find many other local organizations that struggle to get the word out about their important announcements, so partner up with them to create a mutually beneficial social media relationship.
5. Promote an upcoming event 
Local events are widely popular content with mass appeal. Since most businesses on your site will be able to list upcoming events, and each of those events are featured on your Events page automatically, it's really easy to find and highlight them all year round. By mentioning all of these on social media, you can help your clients get more exposure while helping locals find new and interesting things to do in the community.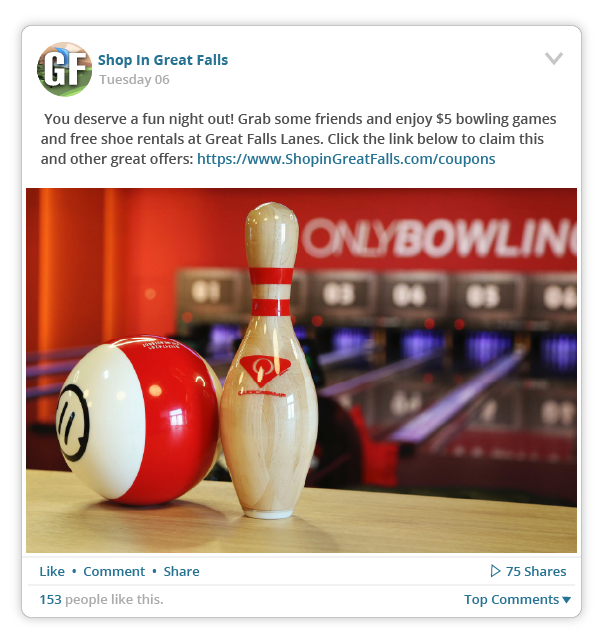 6. Share a coupon or deal 
Everybody loves a good deal. So highlighting sales promotions, discounts, special offers and coupons from your directory website will surely excite your social media followers. Maybe there's a local restaurant that's offering a discount on a popular dessert, or an auto repair shop that's giving $50 off any service for all first-time customers. No matter what the deal is, it's worth sharing because there's always someone that it will appeal to.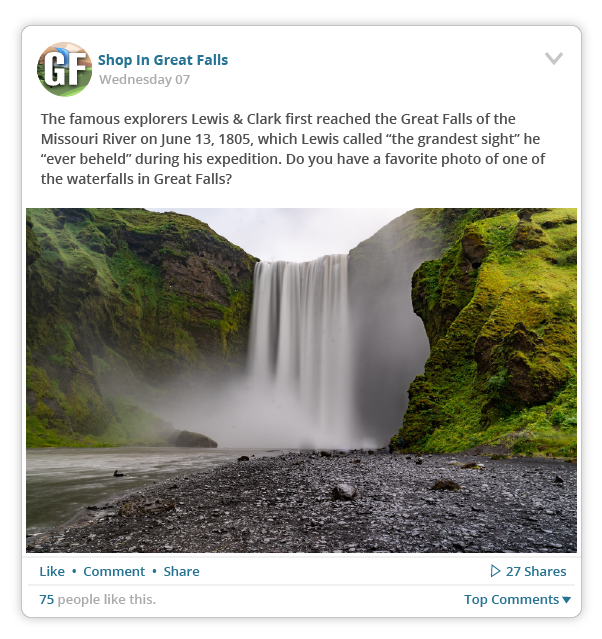 7. Upload a photograph of a local landmark 
People love seeing images that depict the beauty and uniqueness of the area they live in. If possible, drive around the area and snap a few photos of local landmarks, statues, parks, lakes or streams, beaches, and anything else that is representative of the town or city that your directory site serves. Thanks to the latest smartphone camera technology, you don't need to be a seasoned photographer to capture the beauty in just about anything you find around town.

Bonus: To add a level of intrigue and encourage interaction with these posts, occasionally take an obscure or unusual photo and challenge viewers to guess what or where the image is.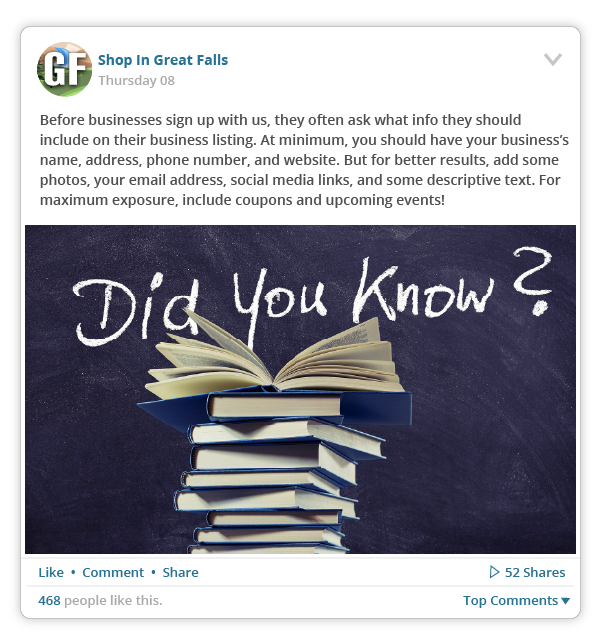 8. Post an answer to an FAQ 
Educate your followers about your directory website by posting and providing the answer to an FAQ. Think of some questions that you answer often for site visitors, advertisers, and prospects. Post questions like:  "What are the benefits of having your business listed on [DIRECTORY NAME]?" or "How do you claim your business listing on [DIRECTORY NAME]?" or "What kind of information should I include in my business listing?" Then, provide the answer and link to a page on your site that is related to your answer.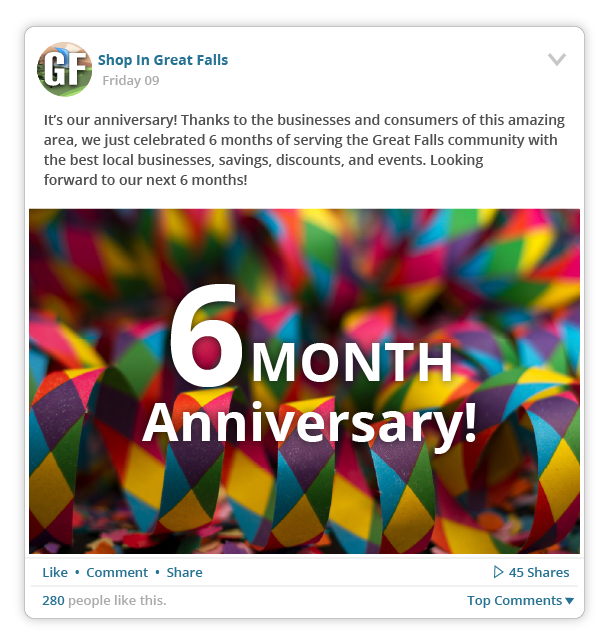 9. Celebrate an achievement or milestone
Did you just celebrate a business anniversary, reach an all time high number of advertisers listed on your site, or receive a special recognition of some kind? These are substantial achievements worth celebrating and promoting on social media. Not only is it exciting and happy news to share, but it's great for your advertisers and local residents to see that your business is growing and thriving.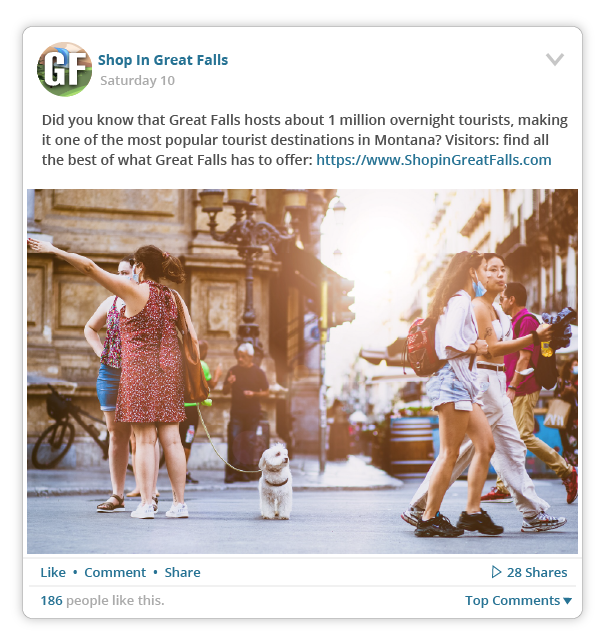 10. Share a local fact or statistic
People enjoy learning something new about the town or city they live in. For this reason, try posting relevant facts or statistics about the area your directory serves. Use phrasing such as "Did you know that [CITY] has over # local businesses? Find some of our favorites on [DIRECTORY NAME]." To find some up-to-date stats and other information, visit your town or city's Wikipedia page or the U.S. Census website and type the city's name or zip code in the search bar.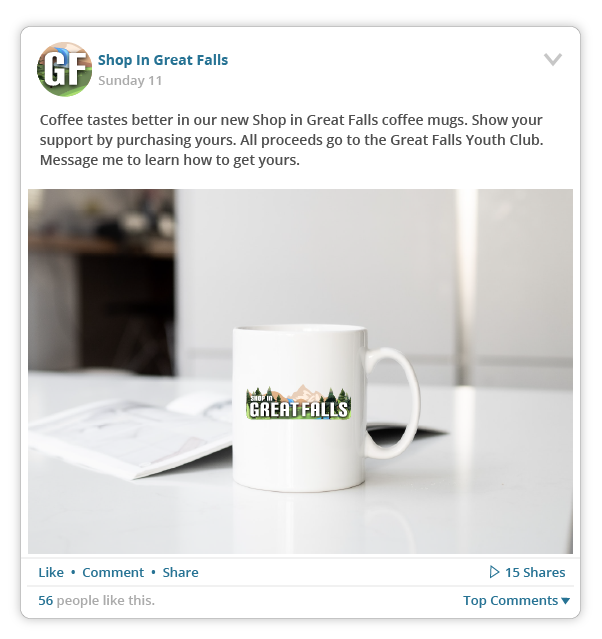 11. Post company swag with your logo 
Offering company swag is a great way to market your business directory website. Put your logo and website URL on T-Shirts, coffee mugs, pens, bumper stickers, etc. It's a low-cost investment that can generate traffic to your site and build awareness about your brand. Plus, giving away swag for FREE shows your appreciation to your customers and followers. Post an image of the company swag you're giving away and ask people to comment or private message you. Give it out on a first-come-first-serve basis to site visitors or offer it exclusively to your current or new advertisers.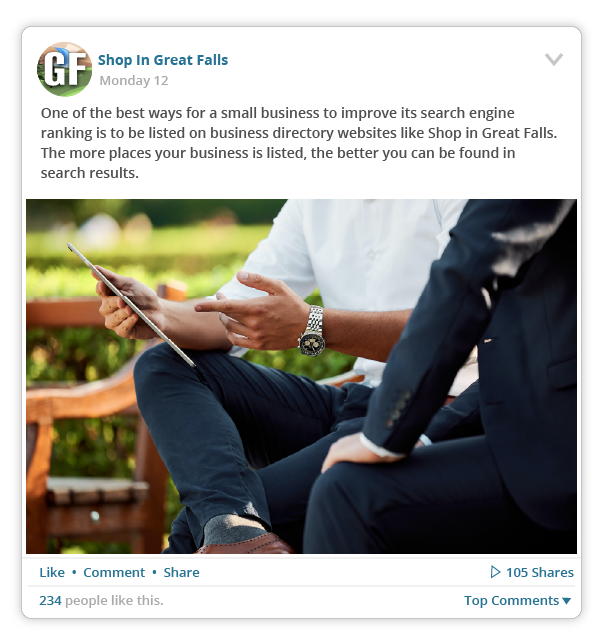 12. Offer a small business marketing tip 
Since your target market includes small business owners, share a tip that they might find interesting or beneficial. You can even use our 100 Ways to Market Your Online Directory eBook as inspiration for some ideas you might post. Share advice that would be beneficial to the majority of small businesses and try to find ways to make it relate to your directory. You can even promote yourself while offering them advice with something like this: "One of the best ways for a business to improve its search engine ranking is to be listed on a local online business directory website like [DIRECTORY NAME]. When a business is listed in multiple places, the more traffic it can get and credible it will appear to search engines."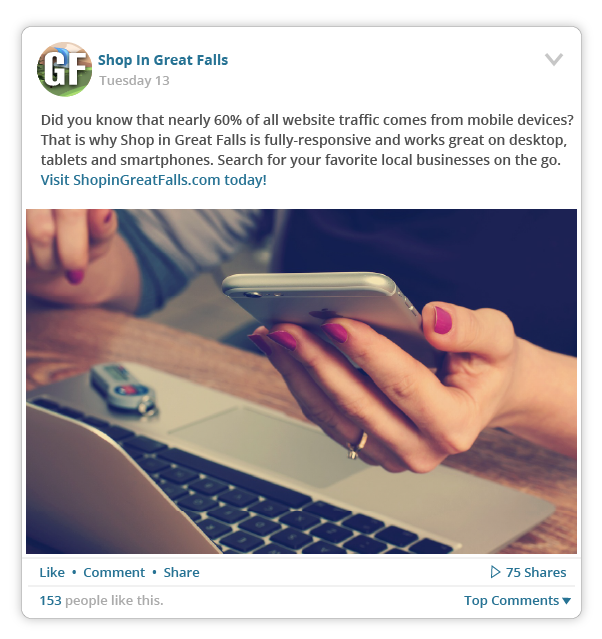 13. Highlight a specific website feature or benefit
Focus on what makes your directory website unique and stand out from the competition. Highlight elements that both advertisers and site visitors can appreciate. In a post meant for advertisers, you may talk about how easy it is for consumers to visit their website or message them right from their listing; while in a post for users and local consumers, you can mention that your site is categorized and fully searchable for quick and easy access to exclusive coupons and deals.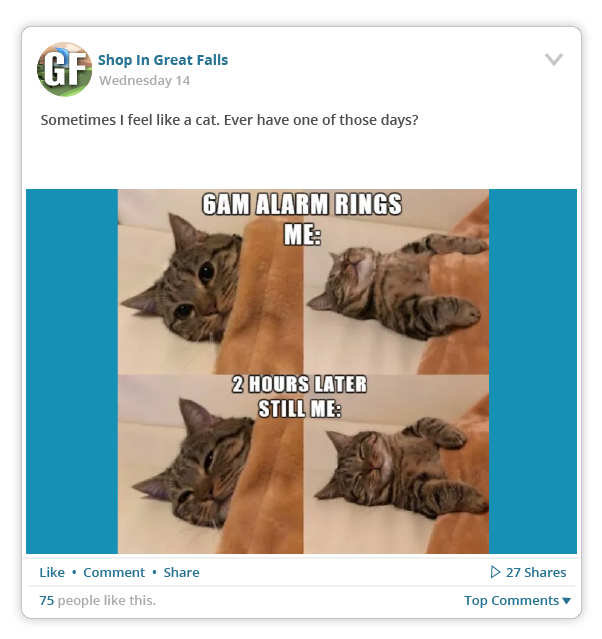 14. Post a funny meme or gif
To give your brand personality and appear relatable and relevant, post a funny meme or gif. These eye-catching marketing graphics can convey a lot of meaning with little to no text. It's important to pick one that can be easily interpreted and universally amusing. Finding the right meme or gif can take time but you can get a lot of likes and comments with the right one. To explore a gallery of gifs, click here.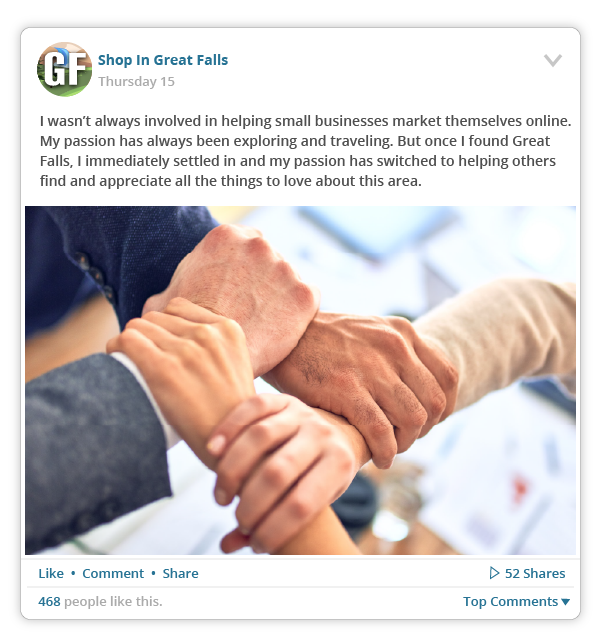 15. Share something personal about yourself 
While you may have a site that can sell itself, business owners really love to do business with those they know, like, and trust. Posting something personal about yourself can help you establish trust with your followers, build your reputation, and grow your professional brand. Consider sharing personal facts or information that demonstrate your personal connection to the town or city that your directory serves. For example, talk about how long you've lived in the community, mention your favorite park or landmark to visit, or share a story about an experience you had in the community.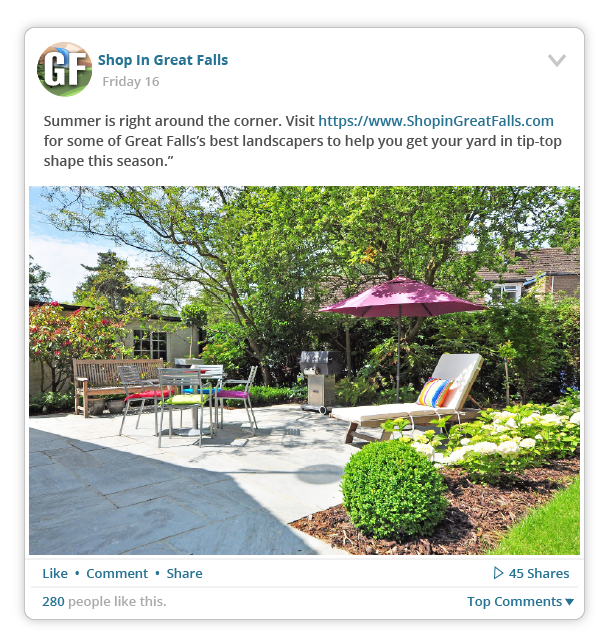 16. Find content relevant to the season 
Depending on the time of year, there are certain businesses that are in high demand. Knowing this, you can post about these business categories and lead local residents and consumers to your site. In the winter you might direct followers to view accountants, therapists, doctors, and snow removal companies, whereas in summer, you may think of landscapers, roofing companies, pet services, and garden centers. Your post may say something like, "Summer is right around the corner. Visit [DIRECTORY NAME] for some of [CITY]'s best landscapers to help you get your yard in tip-top shape this season."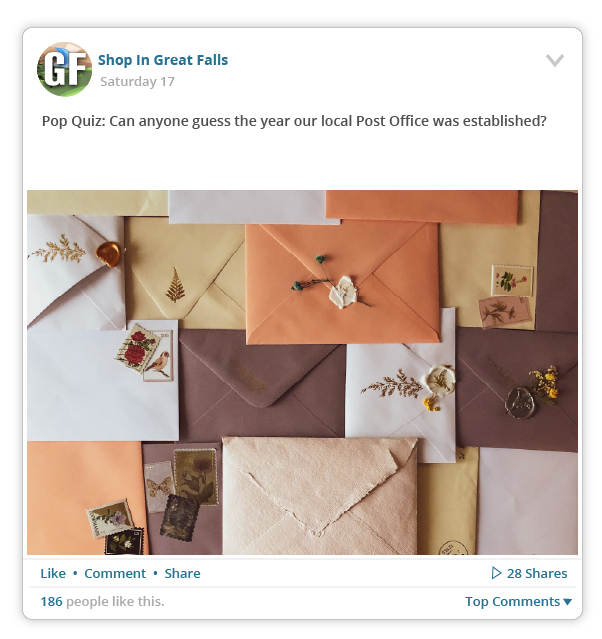 17. Pose a question to your followers
A quick and easy way to encourage interaction from your followers is to ask a question. People feel inclined to respond to questions and share their knowledge on things they think they know the answer to. You can ask a question in the format of "true or false," post multiple choice answers or leave it open ended like this: "Can you guess the year that our local Post Office was established?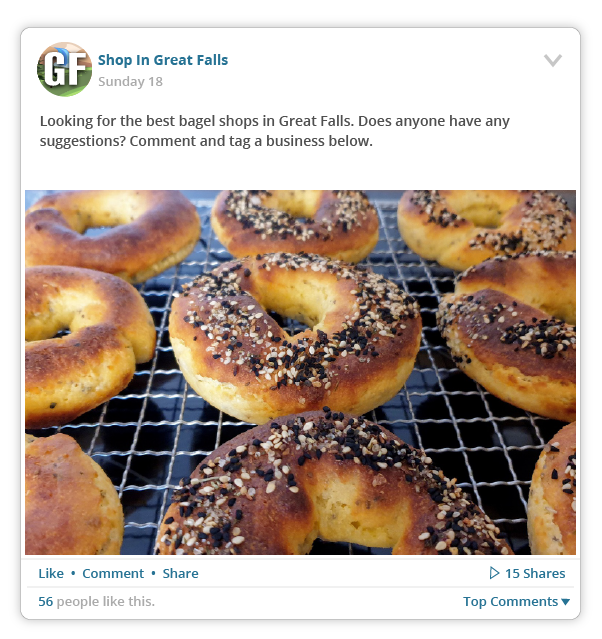 18. Ask for a recommendation 
One of the beneficial features of social media is the opportunity to get reliable recommendations from a large group of people within your network that you know and trust. "Looking for the best pizzerias in [CITY]. Anyone have any suggestions?" By asking for this information, you can also get some ideas of what businesses to target and sell business listings to. Bonus: you will find business owners suggesting their own business in response to questions like this, so you can easily find out how to contact them!
19. Say 'thank you' to your customers
A simple thank you post to your customers can go a long way in showing your appreciation and building their loyalty. To make it truly personalized, create a graphic that has the business logos of your advertisers accompanied by some text like, "[DIRECTORY NAME] works with some of the BEST businesses in [CITY]. We value your trust and confidence in us and sincerely appreciate you and your business!" The purpose of this post is two-fold: it shows your appreciation to your customers while also promoting them as advertisers on your directory website.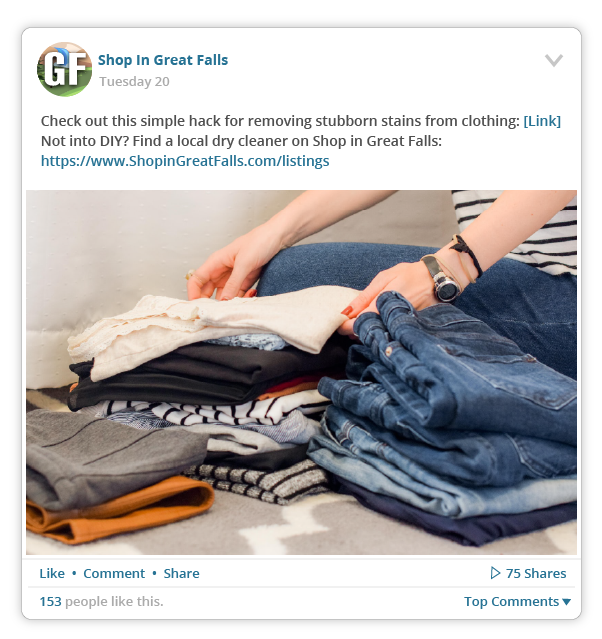 20. Offer a helpful tip, suggestion or life-hack
What better way to get the attention of your followers than to share a helpful tip, suggestion or life-hack that could benefit them? A simple example would be sharing a great spot to go hiking or have a picnic. A more advanced idea would be to choose topics that can relate to listings on your site. For example: "Check out this trick for cleaning stubborn stains from your clothes: [link]. Not into DIY? Bring your clothes to this local Dry Cleaners: [Link to Profile Page]."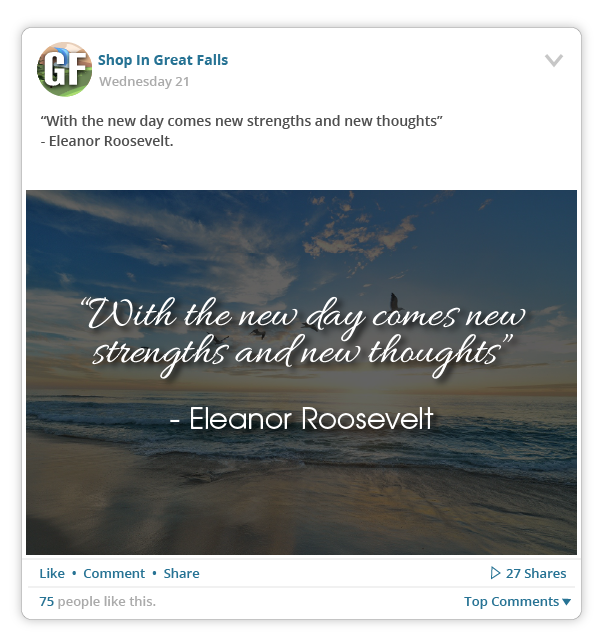 21. Share a motivational or inspirational quote
Sharing a motivational or inspiring quote can improve the way people relate and connect to your brand. People are drawn to brief and meaningful content on social media that they find engaging. Scientific research has shown that motivational quotes make us feel the same as actually accomplishing something (source). Select quotes that reflect positivity such as, "With the new day comes new strengths and new thoughts" - Eleanor Roosevelt.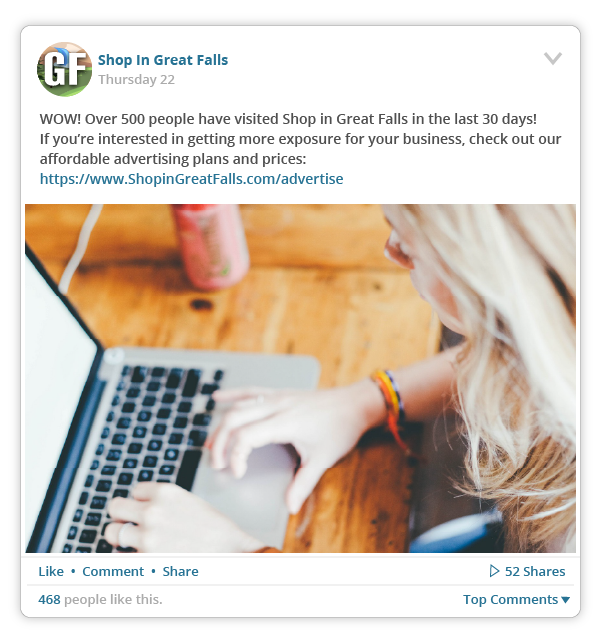 22. Share recent traffic stats from your website
If you haven't already, you should make it a habit to monitor the traffic to your website on a regular basis. While doing so, you can share some key metrics from a selected period of time. Right from the Dashboard, you can get stats about the number of visitors, page views, average time spent on your site and pages per visit. Try to select the best stats to share on social media.
23. Conduct an interview
Interviews are great for giving and getting advice and catching the attention of online followers. Maybe you decide that you want to conduct interviews with local business owners who can speak about themselves, their business and maybe even their experience advertising on your directory. By capturing exclusive content, you can give viewers an inside look at a local business that they can't find anywhere else.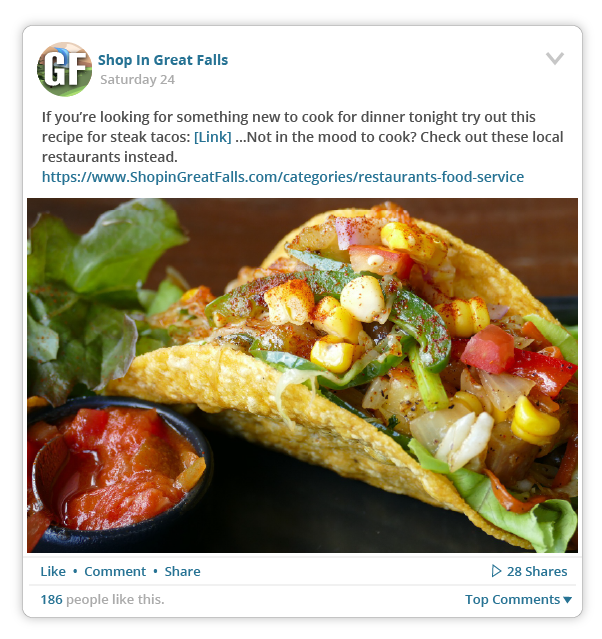 24. Feature a recipe
There are so many great recipes on social media, so why not share some of your favorites? Along with the recipe, you can find some creative ways to lead viewers back to your site. For instance, "If you're looking for something new to cook for dinner tonight try out this recipe for steak tacos: [insert recipe]…Not in the mood to cook? Check out these local restaurants instead." Then include the link to the restaurant category on your directory site.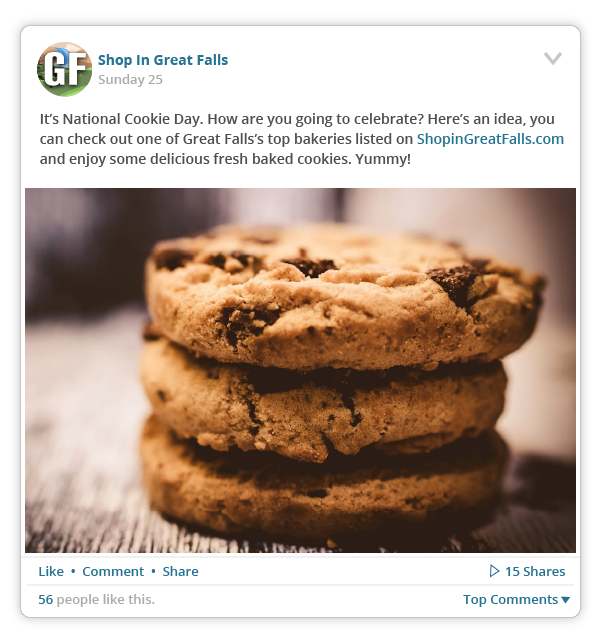 25. Celebrate with a holiday-themed post 
Almost every month of the year has one or more holidays. Take a moment to acknowledge or wish your followers a happy holiday with a cheerful and colorful graphic. Since many holidays coincide with celebrations or time off from work, be sure to direct your followers to your website so they can take advantage of special deals and promotions that local stores and restaurants may be offering. In addition to the widely celebrated holidays, throw a few little known holidays into the mix. "It's National Cookie Day. How are you going to celebrate? Here's an idea, you can check out one of [CITY]'s top bakeries listed on [DIRECTORY NAME] and enjoy some delicious fresh baked cookies. Yummy!" 
26. Run a contest or giveaway
While the contest or giveaway itself could be a major draw, getting businesses involved could be equally as engaging as a social media post. Depending on the contest, you can make a connection to related categories in your directory. For example, you can host a cute pet contest or challenge residents in the community to capture photos of several local businesses and post them in the comments. The person with the most likes on their photo wins! Ask businesses if they would be willing or interested in contributing a gift card that you can feature in your giveaway. Their public generosity could put them in a very good light. For participants to enter, ask them to direct message you on social media and use a hashtag in the comments to encourage others to participate.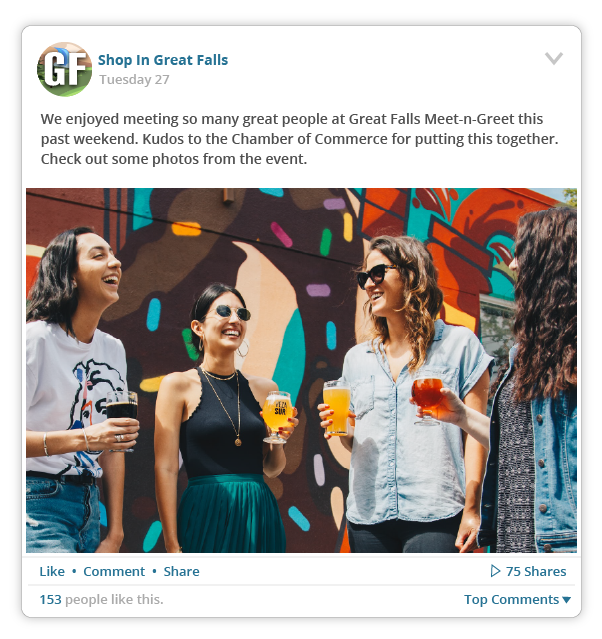 27. Share photos from a recent event
If you're trying to grow your network and promote your brand in your town or city then you're probably taking every opportunity to attend and/or sponsor local events. While you're there rubbing elbows with other small business owners, take some photos and share them on social media. By doing so, you're showing followers that you're active in the community. You can tag people or they can tag themselves in the photos with the hopes they re-share the post to their own profile page.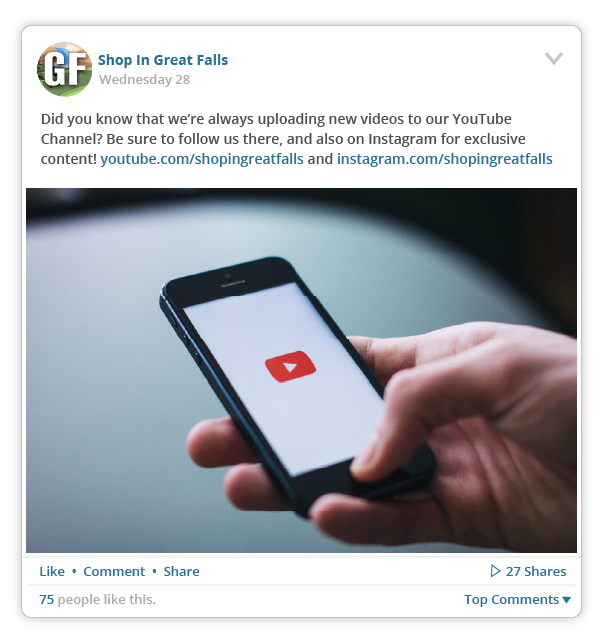 28. Promote your other social media channels
If you have social media profiles for your business on multiple platforms, consider promoting your current followers to follow you on the other sites as well. Create an image with the social media sites that you're active on and include the links or handles that people can use to find and follow you. The more followers and eyes you can get on your brand, the better!
29. Encourage followers to subscribe 
Encourage your followers to join your mailing list with a post like this: "To get updates about [CITY]'s latest news, happenings, coupons, special events, and more, sign up to receive [DIRECTORY NAME] marketing emails." Then share a link to where they can sign up. If you use a mailing platform like MailChimp, you can create a signup form for them to filter directly into your database.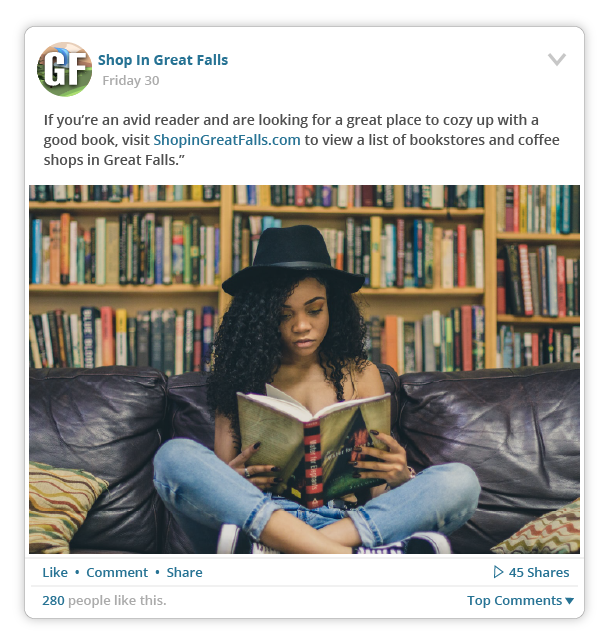 30. Feature a popular hobby or activity
Almost everyone has some sort of hobby. Most people like to talk about their hobbies with others who share their interests. So, if you can tap into that enthusiasm, you can garner engagement and interest in your post. For example, "If you're an avid reader and are looking for a great place to cozy up with a good book, visit [DIRECTORY NAME] to view a list of bookstores and coffee shops in [CITY]." 
Start Promoting Your Directory Website on Social Media
Now that you've reviewed some quick, easy and simple ideas for what you can post on your directory website's social media pages, hopefully you feel inspired!

While there are a variety of social media platforms you can choose to post on, some of the most popular sites to use include Facebook, Instagram, LinkedIn, and Twitter. The perks to having multiple social media accounts are that you can increase your SEO, build your credibility, get more eyes on your business and links leading back to your directory website.

It's best practice to post a few times a week to stay relevant and active. Utilize the topics, themes and suggestions listed above as well as any other ideas you have that will help promote your directory to ultimately attract people to your website.

Lastly, in addition to posting on social media, make sure you're actively responding to people as they write posts on your page and/or send you messages. Try to allocate time within your marketing strategy to comment on your advertisers' posts and on those of other groups/businesses you may follow. The more you post, the more exposure and opportunities you give yourself to get noticed by potential advertisers and site visitors.

So what are you waiting for? Launch your own business directory website and start promoting your website on social media today!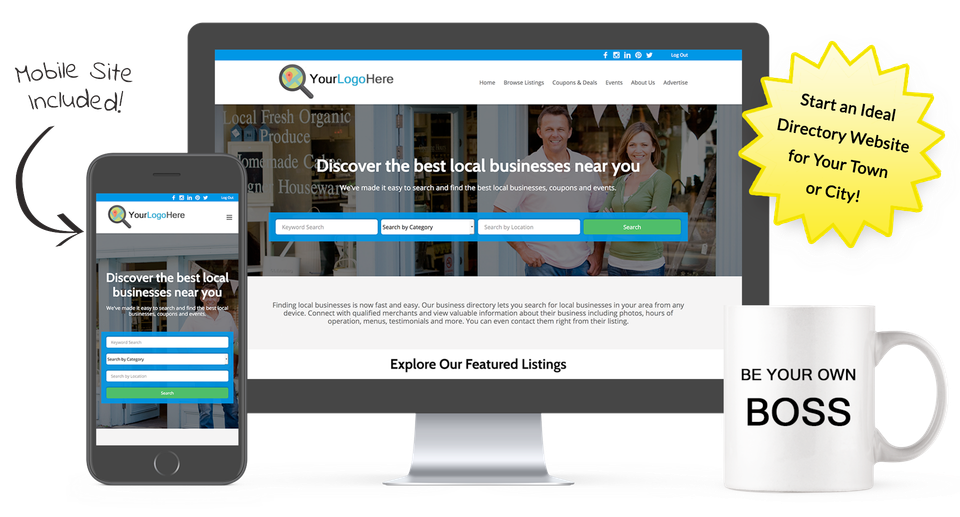 Start a Directory Website for Your Town or City with Ideal Directories!
Make money promoting local businesses, coupons & events in your area.