Should You Start a Business Directory Website?
Published on December 20,2021
Have you ever wanted to be your own boss? Leave the office and the commute behind and run your own company? Well, you're not alone. Last year, over 4.3 million new businesses popped up in the U.S.

One of the fastest and cheapest ways to start a business is online! An online business doesn't need a big budget or much experience. But what kind of company should you set up?

An online business directory, powered by Ideal Directories, is a perfect choice for anyone looking to dip their toes into self-employment or start a side hustle. Let's jump into our complete guide on how you can start a business directory website!
What Is a Directory Website?
Online business directories are collections of business listings. It's essentially an electronic version of the Yellow Pages. Because our society is so digital, we usually turn to the internet when searching for info.

That's why an online business directory provides value and usefulness to consumers. And with over 345 million internet users in North America, you'll have a steady flow of visitors.
Helpful Website Ideas
Are you stuck on what kind of directory to make? Let's cover the basics. Directories are usually classified by location, category, niche, and size.

Location directories focus on local, usually small businesses. For example, if you live in Lexington, MA, you could create a directory that lists all the companies in the area. You can also further divide them into restaurants, automotive, and so on.

Category directories only list businesses in specific fields. Using the Lexington example again, you might have a directory called "Best Restaurants in Lexington". Or you can expand your location to include the best eateries in all of Massachusetts.

Niche directories can get more specific than categories. Popular niches for online directories include women-owned, veteran-owned, and minority-owned. You can go even deeper and focus solely on women-owned video game shops in New York City, for example.

Lastly, directories categorized by size usually focus on small startups. Customers who want to support a local business will usually do extra work to find a good option. Small business directories are a valuable tool for these shoppers.

You can also go in the opposite direction and feature "the largest automotive shops in Lexington" or something along those lines. And the best part of running your online business directory? You can break all these rules and do whatever you want!

For added value, you have the option of including coupons and events pages in your directory. Budget-conscious consumers will love your site for finding deals and savings. And people looking for activities can browse your page and find local businesses hosting events.

If you still need some inspiration, check out some of these amazing examples! They'll give you a good idea of online directories in every category, niche, size, and location.
How Do You Make Money?
If you've worked a salary or hourly job, you know how frustrating it can be to earn the same pay again and again. There are usually no opportunities to increase your wage unless you get a promotion. Unlike a salary job, running your own business gives you limitless possibilities!

There are two ways to earn money with an online business directory: listings and advertising. The more you sell of each product, the more money you make. Simple!
Business Listings
Listings will make up the bulk of your business. Once you get your website up and running, you can reach out to business owners to sell listings. You have the freedom to choose your listing prices.

Let's say you advertise a listing for $50 and find 20 owners who want to use your service. Your monthly earnings will be $1000. Not bad for a side hustle, right?

Of course, the more listings you sell, the higher your income will climb. You can experiment by adjusting your prices higher or lower to see where the sweet spot is. You'll be able to create three different plan options for businesses to choose from.

A monthly plan allows for 5,000 listings. If you fill all these spots at $50, your earning potential can be up to $250,000 a month! A yearly plan allows for 10,000 listings meaning even higher earning possibilities.
Advertising
If you need a second stream of income for your online business, advertising is a great option. You can offer advertising in the form of banner ads.

Banner ads appear on the top, bottom, or side panels of your website. You usually earn money through clicks or exposure, meaning any time someone clicks or views an ad, you get paid. The simplest way to earn money is by charging a flat monthly fee.

Since banner ads typically get more exposure than a listing, you can charge significantly more for them. While your price might vary based on the position of the ad or how much traffic your site gets, most directory owners will charge anywhere from $100 - $300/month for each banner ad.

You can see that the earning potential for banner advertising can be substantial so it's a nice way to earn extra money. That's why selling banner ads along with business listings is the fastest way to grow your business.
Should You Start a Business Directory Website?
We've covered your earning potential so far, but you don't want to make a decision only based on money. If you're wondering if this opportunity is right for you, let's look at what else you can expect.
I Want Something Fast
With Ideal Directories, you don't need to wait weeks for someone to build your custom website. Your online directory can be ready in as little as 24 hours! Curious? Watch the demo video to see how easy it is.

There's no need for website design skills or technical knowledge. But your business branding is an essential part of your success. Once you choose a page layout, you'll be able to edit colors, fonts, pictures, and logos.

You can also customize pages, titles, and categories. Add extra pages at any time as your business grows. Our easy-to-use dashboard lets you quickly attach business listings without any hassles.
I Want to Own My Business
When you set up your online business directory, you're the sole owner of the site! From that point on, it's your business, and you can control every decision.

From how many listings you want to feature to advertising and marketing, you're the boss. And all the revenue is yours to keep. You're in charge! If you've always dreamed of being your own boss, this is the perfect opportunity to make it happen.
I'm Not Technologically Skilled
Are you worried you don't have the tech skills to run a website? You can ditch those concerns! Even if you're totally new to the online world, you can build and run your online business directory.

Ideal Directories make website setup easy and fast. We'll teach you exactly how to use the platform and make successful sales. But we don't stop there. You'll have access to ongoing support and training the whole time!
I Want Support and Guidance
We know that selling more business listings equals higher profits. But how can you apply customer-focused marketing techniques to connect with more businesses? We can help with that too!

When you sign up, you'll receive a free e-book called "100 Ways to Market Your Directory". It's chock full of hints, tips, and guides for getting started and finding success.

The e-book covers an enormous amount of information, including:
How to write press releases

Using social media to promote your business

Finding and registering a domain name

Setting up advertising and using Google AdWords
And much more! We also provide educational articles and access to our customer support team to answer any questions you may have. 
How Can You Start?
Have an idea for an online business directory? Great, it's time to start!

To begin, you'll need to create an account with Ideal Directories and choose your payment plan. The plans are contract-free, so you can cancel any time (although you'll want to stick around once you see how successful your business can be)!

We have options for monthly and yearly plans. A monthly plan will get you one website, one admin account, and you'll be able to include up to 5,000 listings. A yearly plan expands your options to five admin accounts and up to 10,000 listings!

Next, you'll have to decide your location. It can be your town or city you live, your favorite vacation spot or anywhere in the world! Online business directories aren't confined to your physical location.

Our support team is available to help you choose a domain name and customize your website. We'll even get your sales pitch ready with scripts, flyers, and other marketing resources. Then all you need to do is find your customers and get selling!
Start a Directory Website Today!
If you want to take your earning potential into your own hands, it's time to become your own boss. Start a business directory website today to see how freeing working for yourself can be!

Working with us means saying goodbye to the stress of building your own site. We'll help you through every step of creating, marketing, and selling so you can focus on your success.

For a limited time, you can get started with zero setup fees! Sign up now and begin your journey to independent success!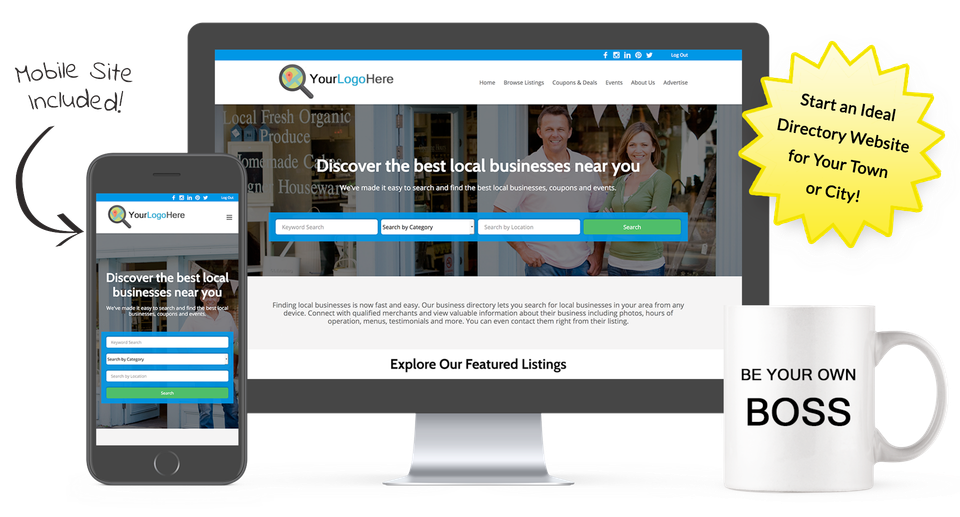 Start a Directory Website for Your Town or City with Ideal Directories!
Make money promoting local businesses, coupons & events in your area.