How to Market Your Online Directory
Part of launching a successful online directory website is finding ways to effectively market and promote your site to potential advertisers and site visitors. With so many different marketing tactics out there, it can be a daunting task to identify which methods work and, better yet, where to even begin…But, keep calm and don't fret because we have the perfect solution for you! Designed in the form of an easy-to-read eBook, we've created a comprehensive resource that outlines 100 simple, creative and proven marketing techniques you can use to help skyrocket the growth of your online business directory.
100 Ways to Market Your Online Directory eBook
When it comes to marketing your business directory, we wrote the book on it (literally). Created specifically for directory website owners, we compiled a list of 100 Ways to Market Your Online Directory and made it into a digital resource accessible to all Ideal Directory clients. Each page is filled with actionable tips and advice and includes effective and affordable strategies that you can use to help you promote your directory website.

If 100 marketing ideas wasn't enough, we went a step further and added bonus tips and links to support articles throughout the eBook. Taking the guesswork out of marketing your directory business, this invaluable guide will help you learn how to maximize your local marketing efforts so you can attract site visitors, build credibility, and sell more business listings.

No matter what stage you're at in running your online directory business, this eBook can help you develop your marketing strategy so you can reach your goals and scale your business faster. 
In this ebook you will learn how to:
☑️ Maximize your local marketing efforts.

☑️ Find FREE ways to market your directory website.

☑️ Network with local professionals in your area.

☑️ Build credibility and earn the trust of advertisers.

☑️ Drive traffic to your site and sell more listings!
Sneak peek of what's inside: The First 10 Marketing Tips
Here is a sample of some quick, practically FREE tips, to help you get started. Log into your Ideal Directories Dashboard or sign up today to access the entire ebook.
1. Focus on your local market.
Even if your goal is to expand to nearby areas, It's much easier to focus your marketing efforts on a smaller geographic area to start, rather than trying to appeal to the masses.
2. Find a good domain name for your directory website.
Make sure it's catchy, easy to remember, and easy to spell. You can purchase your domain name from here: http://www.cheapneasydomains.com/.
3. Pay attention to SEO (Search Engine Optimization).
Be sure to edit the meta tags, including the title tag, description and keywords for each page. Crafting the right SEO terms for your directory website will lay the foundation for your search engine optimization and help drive relevant traffic to your site.
4. Submit your directory website to search engines.
It's very important to submit your directory website to major search engines like Google, Yahoo and others, so they can index your site and start including it in search results. You can do that from your Dashboard with just 1 click using our "Search Engine Submission Tool."
5. Write a press release to announce the launch of your directory website.
We offer an easy-to-follow template that promotes your site and points out the benefits that your directory website offers to both local consumers and local businesses. Be sure to include a link to your business directory domain in the article. Many PR services may even offer to help you distribute your press release to media outlets in print and across the web.
6. Utilize social media.
Social media is an effective and free way to promote your directory business. Create a Facebook Page, Twitter Account, Instagram, etc. for your business directory website. Use it to promote your brand, feature your advertisers, post relevant content and connect with local consumers.
7. Join a local Chamber of Commerce.
This not only gives you the opportunity to rub shoulders with local business owners and sell them advertising on your directory website, but joining a Chamber of Commerce also gives you credibility as a fellow business owner in your community.
8. Offer a free trial.
If you get a lot of pushback, consider giving an advertiser a free listing for a limited time. This can help earn their trust and prove the value of your services.
9. Utilize email marketing.
Email marketing is a great way to stay in touch with customers, inform them about updates and new listings on your site, and get them to visit your site more often.
10. Start a blog.
Adding a blog can be a great way to generate additional traffic to your site. Be sure to write about things relevant to your directory and that interest both your visitors and your advertisers.
Access Your Copy of the eBook Today!
The 100 Ways to Market Your Online Directory eBook is exclusively available to all current Ideal Directory clients and can be viewed in the resource section of the dashboard.

Have we piqued your interest? You too can have access to this one-of-a-kind marketing resource when you get started with Ideal Directories!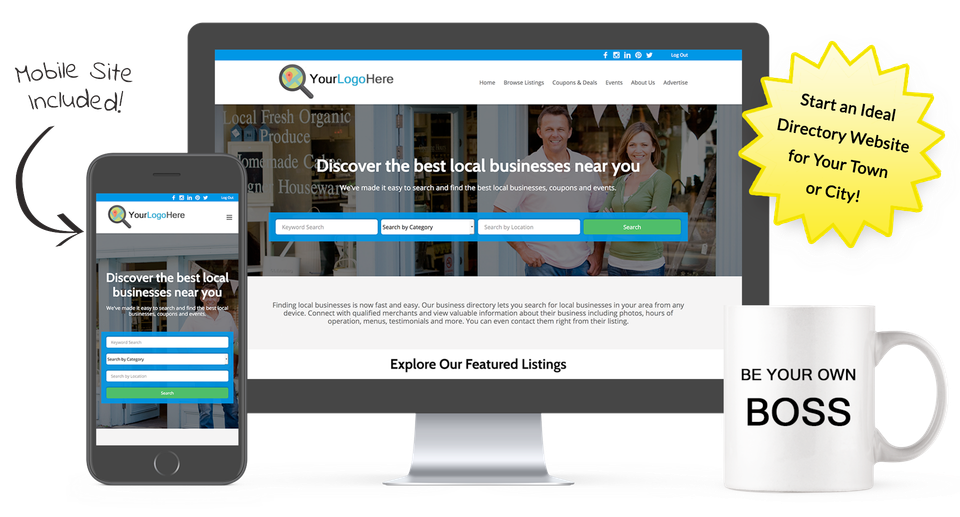 Start a Directory Website for Your Town or City with Ideal Directories!
Make money promoting local businesses, coupons & events in your area.